Bandpass Filters isolate narrow spectral regions.
Press Release Summary: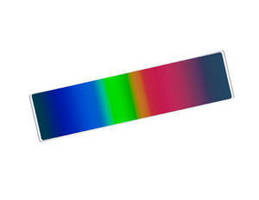 Available in VIS and NIR models, Linear Variable Bandpass Filters are precision coated optical filters featuring spectral properties that vary linearly across filter length. Units provide optimum input beam diameter of 0.5 x 10.0 mm and block greater than 4.0 optical density at 1.5% of laser wavelength. Spectral response can be adjusted by moving filter's position relative to light source. To simplify system setup, single linear variable bandpass filter can replace multiple dedicated filters.
---
Original Press Release:

Linear Variable Bandpass Filters Replace Multiple Dedicated Filters



Simplify system setup and minimize weight



Barrington, N.J. — Edmund Optics® (EO), the premier provider of optical components, introduces new Linear Variable Bandpass Filters. These versatile filters provide the high transmission and deep rejection necessary to isolate narrow spectral regions for use in a wide variety of applications.



Narrow bandwidths with high transmission

Linear Variable Bandpass Filter

Click on image to download high resolution version



Linear Variable Bandpass Filters are precision coated optical filters featuring spectral properties that vary linearly across the length of the filter. They provide an optimum input beam diameter of 0.5 x 10.0 mm. Delivering OD4 blocking, these filters provide high transmission across narrow bandwidths. They offer impressive blocking of greater than 4.0 optical density at just 1.5% of the laser wavelength. Deep blocking of unwanted light maximizes system performance at the required wavelength. The spectral response can be conveniently adjusted by simply moving the filter's position relative to the light source. A single Linear Variable Bandpass Filter can replace multiple dedicated filters, which simplifies system setup and minimizes weight for optimal value.



Available in VIS and NIR models

Linear Variable Bandpass Filters are available in VIS and NIR models. They are in-stock and available for immediate delivery for fast turnaround and excellent value.



About EO:

Edmund Optics® (EO) is a leading producer of optics, imaging, and photonics technology for R&D, electronics, semiconductor, pharmaceutical, biomedical, and military markets around the globe. EO is the world's largest supplier of off-the-shelf optical components. Customers can purchase items by contacting EO at 1-800-363-1992, via the catalog, or via the website at www.edmundoptics.com



Company Contact:

Kirsten Bjork-Jones

Director Global Marketing Communications

Edmund Optics®, Inc.

101 East Gloucester Pike

Barrington, NJ 08007 U.S.A.

Phone: 1-800-363-1992

Fax: 1-856-573-6295

email: kbjork-jones@edmundoptics.com



European Contact:

Agnes Huebscher

Director European Marketing

Edmund Optics

Zur Giesserei 8

76227 Karlsruhe, Germany

Tel.:   +49 (0)721-62737-38

Fax:   +49 (0) 721 6273750

E-Mail:   AHuebscher@edmundoptics.de

More from Test & Measurement