Band Saws handle variety of metal cutting applications.
Press Release Summary: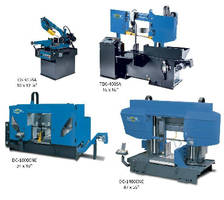 In addition to linear material cutting, DS-315SA StructurALL® Dual Swivel Semi-Automatic Band Saw provides miter angle cuts up to 60° left and right. TDC-400SA Olympia™ 16 x 16 in. Dual Column Semi-Automatic Band Saw is specially designed to cut solid and standard tube and pipe. Featuring automatic, hydraulically controlled design with multiple material feeds, DC-1000CNC and DC-1400CNC Hercules™ Horizontal CNC Enclosed Band Saws provide vertical cuts up to 55 in.
---
Original Press Release:
DoALL® Sawing Products Introduces Additional Saws to it Standard Product line in November at FABTECH 2016
DoALL continues to add new metal-cutting band saws to its product line to support fabricators and machine shops. These new high-performance saws provide versatile, efficient, economical and accurate sawing solutions for a large variety of sawing needs. DoALL will have ten machines available for demonstrations in Booth C40085 from November 16th through the 18th at FABTECH 2016 in Las Vegas. Since the initial new products launched at IMTS in September, DoALL will add 4 more saws which include:

DS-315SA General Purpose Dual Swivel StructurALL® Series Band Saw
The DoALL DS-315SA StructurALL® semi-automatic, dual-miter metal-cutting band saw is designed for cutting material both linear and at angles. Miter angle cuts are possible up to 60° left and right. A digital readout comes standard and makes it easy to verify exact cutting angles. DS-315SA is ideal for machine shops, repair facilities and industrial manufacturing plants that need to occasionally cut metal solid and profile material.

TDC-400SA Olympia™ Tube-Cutting Band Saw
The DoALL Olympia™ TDC-400SA is a 16 x 16 inch semi-automatic dual column, metal-cutting band saw specially designed to cut solid and standard tube and pipe. The TDC-400SA offers bundling to save time and money in high production environments like metal service centers. Also classified as a horizontal power specialty tube cut-off saw, the TDC-400SA ships with a work light, work height sensor and discharge chute.

DC-1000CNC and DC-1400CNC Hercules™ Dual Column CNC Enclosed Saw
The DC-1000CNC and DC-1400CNC Hercules™ high production, horizontal CNC band saws from DoALL are highly efficient, automatic, hydraulically controlled machines with multiple material feeds. Designed for vertical cuts up to 55 inches, both are ideal for serial production in industrial settings. Thanks to the robust construction, it is possible to cut a wide range of full and profile materials including stainless and tool steel. In addition, the "box" or enclosed design provides very safe operation.

The new metal-cutting band saws being introduced at FABTECH meet the stringent tradition of high quality that DoALL customers expect. For specific sawing requirements, a wide variety of optional accessories are available to customize all of the new DoALL saws.

Learn more at www.DoALLsaws.com
DoALL Sales Contacts: http://www.doallsaws.com/contact-us/sales
More from Packaging Products & Equipment