Band Saws come in open-stand and enclosed-stand models.
Press Release Summary: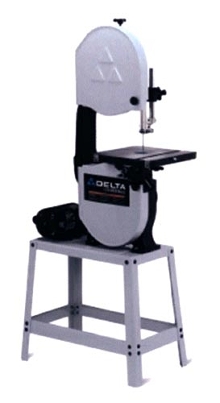 Band Saws are available in four 14 in. models: Model 28-241 (enclosed), Model 28-231 (open), Model 28-276 (open), and Model 28-206 (enclosed). Models 28-241 and 28-231 feature 1.5 hp induction motor. Die spring provides ability to tension large blades effectively. Models 28-276 (¾ hp) and 28-206 (1 hp) include quick-release tension lever. All models include anti-drop blade guide posts, solid cast-iron trunnions, and 9-spoke precision balanced wheels.
---
Original Press Release:
Delta's Rolls Out New Range of 14
JUNE 20, 2002 - NEW YORK CITY, NY - Delta Machinery announced today the introduction of its new 14" band saw lineup during a press conference at New York City's Hotel InterContinental. Delta Product Manager Kendall Smith said, "This lineup not only offers the most innovation band saws have seen in 30 years, but also a compelling price range to both amateur and professional users." Delta's four new 14" models include: model 28-241 (enclosed stand), model 28-231 (open stand), model 28-276 (open stand), and model 28-206 (enclosed stand). Each individual model offers both value and a progression of features for all categories of users. Touting the most powerful 14", 1.5 HP induction motor in its class, the Delta model 28-241 enclosed stand band saw features a 50% increase in horsepower over previous versions, while the model 28-231 open stand band saw features a 100% horsepower increase over previous versions. Internal resawing tests with the 1.5 horsepower units revealed a 25% cutting speed increase over previous versions. This provides the end user the ability to feed wood through more quickly, without the risk of stalling the machine. Additionally, the model 28-241 and 28-231's new die spring provides enhanced ability to tension large blades more effectively, and a new precision-fit die cast throat plate ensures more accuracy in cuts. Available late fourth quarter of 2002, the model 28-241 is expected to sell for approximately $799, while the model 28-231 also will be available late fourth quarter of 2002 and is expected to have an approximate street price of $625. Impressive innovation and undeniable value make Delta's other two new 14" band saws stand out among the competition. These units include the model 28-276 (3/4 horsepower, open stand) and the model 28-206 (one horsepower, enclosed stand). Unlike any other competitive model, these two band saws offer a patent pending quick release tension lever. Conveniently located, the quick release tension lever makes blade changes up to three times faster. Not only does this provide an easier operation, but also the ability to take tension off the blade while the tool is not in operation, ensuring a longer blade life. Delta is the only manufacturer that utilizes a quick release tension lever on 14" band saws. A new 4" integral dust port built into the casting on the model 28-276 and 28-206 not only keeps the work area clean, but also is also compatible with over 90% of other 4" diameter dust collection systems. Additionally, the electrical cord exits through the rear of the casting, which allows a full range of motion when opening the door, and prohibits door interference when servicing or maintaining the bottom drive wheel. Available in October 2002, the model 28-276 is expected to sell for approximately $399, while the model 28-206 will be available in November 2002, and is expected to have an approximate street price of $599. New anti-drop blade guide posts on all four of Delta's new band saws provide the woodworker total control over how quickly or slowly the blade guide drops. Lower blade guide blocks, located 3/4" below the table surface on all four models, minimize blade deflection while increasing cutting accuracy. The new lineup also features solid cast iron trunnions to provide more table support, and 9-spoke precision balanced wheels that have more substance and stability to lesson wheel flexing. Headquartered in Jackson, Tennessee, Delta Machinery, a subsidiary of Pentair, Inc. (NYSE: PNR), is the leading manufacturer of the world's most complete line of woodworking machinery, stationary equipment, and related accessories for use in home workshops, building and construction trades, industry and schools. With its manufacturing operation centralized in Tupelo, Mississippi, Delta owns and operates a subsidiary, Biesemeyer, located in Mesa, Arizona. A Pentair Company
More from Sensors, Monitors & Transducers