Band Saw Guide improves saw performance.
Press Release Summary: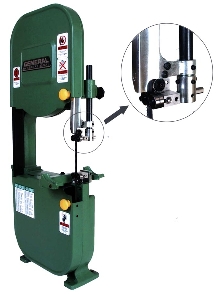 General Band Saw Guide Conversion Kit, designed for General 14 in. Model 90-125 M1 band saw, features 2000 Series guides with sealed, lubricated ball bearings. It includes upper and lower guide assemblies, upper and lower mounting brackets, upper guard bracket, replacement guard, mounting studs, and installation instructions. Kit helps reduce blade friction and improves cutting accuracy.
---
Original Press Release:
Carter's New Guide Conversion Kit Perks Performance Of General 14
Grand Rapids, MI. - Carter Products keeps adding items to their line that make the process of band sawing smoother and more productive. Among the latest is a Band Saw Guide Conversion Kit specifically for the new General 14" Band Saw Model 90-125 M1. Discussing the introduction, Carter President, Peter M. Perez commented, "Considering the success we've experienced with Band Saw Guide Conversion Kits brought to market in the past, we're pleased to develop them for as many Band Saw brands as possible." The kit features Carter's new 2000 Series Guides which are extremely compact, incorporating sealed, lubricated ball bearings for long, smooth operation. Easy to install, the kit is sold complete with upper and lower guide assemblies, upper and lower mounting brackets, upper guard bracket, replacement guard, mounting studs, and installation instructions. Woodworkers report that Carter Guide Kits add considerably to performance efficiency by reducing blade friction and improving cutting accuracy. The General line is manufactured by General International Mfg. Co, headquartered in Montreal, Canada. The new General 14" Band Saw Kit complements the wide choice of kits Carter already offers. Other kits are available to renew the effectiveness of Delta 14" and 20", Jet 14", 18" and 20", Sears 12" and 14", Powermatic 14" Models 44 and 141, SCM S45 Mini-Max 18", Grizzly 16" and 18", General 15", Davis and Wells 20", Grob 4V and NS Series, Centauro, Meber, Hitachi, and many other saws. Carter Band Saw Guides are also found as original equipment on saws produced by many quality manufacturers. Carter has been a leading producer of woodworking machinery accessories since 1929. Besides Guide Conversion Kits for most popular saws, the current product line also includes industrial Band Saw Guides; Wheels and Tires; Laser, Laser Diode and Quartz Guide Line Lights; 2-D Laser Projection Systems; Inspection Lights; the award-winning Flip-Pod® Vacuum Piece Part Holding System for CNC Routers; and other machine accessories such as the Quick Release(TM) Band Saw Tension Toggle and the Stabilizer(TM). For further information on Carter's Band Saw Guide Conversion Kits or any of their extensive product line, contact: Carter Products Company, Inc., 2871 Northridge Drive NW, Grand Rapids, MI 49544. Telephone (616) 647-3380. FAX: (616) 647-3387. E-Mail: sales@carterproducts.com or reach them on their Website at: www.carterproducts.com
More from Packaging Products & Equipment