Bally Ribbon Mills to Highlight NASA-Award-Winning Thermal Protection System at National Space & Missile Materials Symposium 2019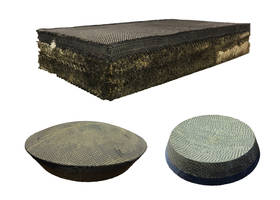 Join BRM experts to discover lightweight 3-D woven thermal and structural components
Bally Ribbon Mills (BRM), an industry leader in the design, development, and manufacture of highly specialized engineered woven fabrics, announces that it will highlight its Woven Thermal Protection Systems (TPS) for space, missile, and hypersonic system insulation at the National Space & Missile Materials Symposium. Join BRM experts at the U.S.-citizens-only conference, June 24–27 in Henderson, NV at Booth 34.
BRM's innovative and advanced woven Thermal Protection System (TPS) provides insulation and protection to a number of NASA programs. The Orion spacecraft has been equipped with our woven composite compression pads specifically designed to provide insulation and structural support. Developed as part of NASA's Heat Shield for Extreme Entry Environment Technology (HEEET) project and funded by NASA's Game Changing Development Program, this tailorable woven TPS material was engineered to reduce entry loads and significantly reduce heat shield mass by 30 to 40 percent for extreme entry environment missions. NASA's Space Technology Mission Directorate (STMD) recently recognized BRM's exceptional design with the Space Technology Award.
BRM designs and manufactures high-performance lightweight multidimensional woven joints, and advanced polar/spiral woven structures for a variety of aerospace and defense applications. These components can be woven with high strength and high performance fibers such as Kevlar®, Technora®, Vectran®, Zylon®, Nicalon®, Nextel®, ceramic, Graphite, Fiberglass, Ultra high molecular weight polyethylene fiber (UHMWPE), metals, hybrids, and more. 
BRM also offers high-performance webbing for such critical applications as parachutes; cargo restraint systems; seating and interior applications; crew safety system components; flight suits; air slides, seatbelts, and flotation devices. BRM's woven webbing was used as a structural member on the landing system for NASA's Mars Exploration Rover Opportunity and can be found in the International Space Station.
For more information, speak with BRM experts at NSMMS 2019 or visit https://www.ballyribbon.com/.
About Bally Ribbon Mills
Bally Ribbon Mills (BRM) designs, develops, and manufactures highly specialized engineered woven webbing, tapes, specialty fabrics, woven preforms, and two dimensional (2D) and three dimensional (3D) structural fabrics. With more than 95 years of textile manufacturing experience, BRM has earned a reputation for meeting new advanced design challenges. Working in aerospace, defense, medical, safety, automotive, commercial, and industrial applications, BRM offers ingenuity, technical know-how, extensive weaving capabilities, and rigorous quality assurance systems. For more information, visit www.ballyribbon.com or call 610-845-2211.
Contact:
Kristin Nugent
McNeil, Gray & Rice
617-367-0100, ext. 148
More from Architectural & Civil Engineering Products