Bally Ribbon Mills Manufacturing Materials to Ensure Health and Safety of Front-Line Workers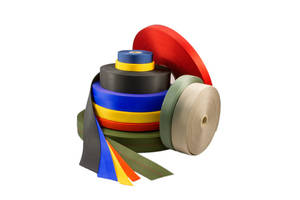 Engineered safety solutions ideal for medical, fire, law enforcement, industrial, and military applications
Bally Ribbon Mills (BRM), an industry leader in the design, development, and manufacture of highly specialized engineered woven fabrics, announces it continues to focus on producing its line of narrow woven structural tapes and elastics, as well as safety webbing, to protect front-line workers responding to the current global health crisis.
BRM's narrow woven structural tapes and elastics are used by manufacturers of facemasks, face shields, gowns, other personal protective equipment (PPE), and medical patient soft goods, as well as patient slings, wheelchair harnesses, braces, and respiratory equipment. BRM manufactures medical items in a certified clean room to ensure cleanliness and quality while maintaining the rigorous ISO 13485:2016 certification for the design and manufacture of medical devices.
Additionally, BRM's safety webbing and tapes meet the demands of applications requiring high temperature, fully engineered safety solutions. Made from Nylon, Nomex®, Kevlar®, Vectran®, PBI®, Nextel®, and other specialty fibers, BRM's safety webbing is ideal for fire, law enforcement, industrial, military, and PPE. It can be used for shoulder straps, harness webbing, and chin straps, as well as helmet suspension, binding tapes, lap belts, and shock absorbing webbing. The webbing offers conductivity, dimensional stability and strength, and can help to reduce weight and size. It also meets United States (NFPA) requirements for firefighters' protective clothing and equipment.
BRM works directly with companies and organizations like NASA, Tier 1 Defense suppliers, and the Department of Defense (Army, Air Force), to develop advanced textiles used in PPE, chemically resistant webbing, and safety harnesses. BRM is in accordance with safety standards, specifications and certifications, including ISO9001, AS9100, ISO13485, ISO14000, NFPA, ASTM, ANSI, *UL, and CSA.
About Bally Ribbon Mills
Bally Ribbon Mills (BRM) designs, develops, and manufactures highly specialized engineered woven webbing, tapes, specialty fabrics, woven preforms, and two dimensional and three dimensional structural fabrics. With more than 95 years of textile manufacturing experience, BRM has earned a reputation for meeting new advanced design challenges. Working in aerospace, defense, medical, safety, automotive, commercial, and industrial applications, BRM offers ingenuity, technical know-how, extensive weaving capabilities, and rigorous quality assurance systems. For more information, visit www.ballyribbon.com or call 610-845-2211.
CONTACT: Kristin Nugent
McNeil, Gray & Rice
617-367-0100, ext. 148
kristin.nugent@mgr1.com
More from Architectural & Civil Engineering Products