Balluff Introduces BML SF2 Linear Encoder System with an Accuracy of 12 Micrometer
Press Release Summary: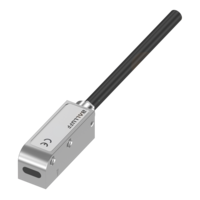 BML SF2 Linear Encoder System is suitable for applications such as X-Y positioning, cutting and forming machinery and direct feedback on electric drives. Unit comes with metal sensor housing and integrated status LED that offer at-a-glance indication of status during installation, start-up and normal operation. SF2 system feature maximum working distance of 1.8 mm. Unit is offered with A/B/Z quadrature or analog sine/cosine interfaces in operating lengths of up to 48 m.
---
Original Press Release:
Magnetic Linear Encoder Solves Issues with Variable Gap Distance
New Balluff product delivers impressive 12 Micrometer Accuracy at 1.0 mm
Florence, Ky: A new magnetic incremental linear encoder system with exceptional ride height provides a much needed solution for applications with variable gap distance.
The new BML SF2 system from Balluff provides 12 micrometer system accuracy at gap distances up to 1.0 mm and a maximum working gap distance of 1.8 mm. The accuracy
greatly simplifies installation, start-up, and operation. The BML SF2 system is the ideal linear position feedback solution for demanding applications such as cutting and forming machinery, X-Y positioning, and direct feedback on electric drives.
According to Balluff Product Marketing Manager for Measurement Sensing Products Scott Rosenberger, this new incremental magnetic encoder solves problems associated with the sometimes hard to achieve mechanical tolerances required when installing magnetic encoder systems.
"Even with careful mechanical design, it's sometimes difficult to keep the magnetic sensor head in proper alignment with the magnetic tape. This new product solves those problems by providing trouble-free operation at easily-achievable sensor-to-tape gap distances," Rosenberger added.
The BML SF2 incremental encoder system is available with industry-standard A/B/Z quadrature or analog sine/cosine interfaces and is available in operating lengths of up to 48 meters. The flexible, magnetic tape can be ordered in bulk and cut to length per application requirements. Additional features of the BML SF2 linear encoder system include:
Compact, metal sensor housing to allow installation in tight spaces
Integrated status LED on sensor head to provide at-a-glance indication of status during installation, start-up, and normal operation
Non-contact action for wear-free operation and long service life
About Balluff Inc.:
Balluff Inc. is the U.S. subsidiary of Balluff GmbH, Neuhausen, Germany. Balluff is a leading supplier of networked IO-Link control system architectures that unlock the potential of the IIoT and Industry 4.0. Balluff offers a wide range of intelligent IO-Link and industrial Ethernet sensors in a variety of technologies including inductive, photoelectric, capacitive, and magnetic as well as magnetostrictive linear position sensors, magnetic tape linear encoders, industrial RFID systems, and industrial vision systems. Balluff provides cost-saving, process-enhancing solutions to machine builders and manufacturers to control, regulate, automate, assemble, position, and monitor manufacturing, assembly, and packaging sequences. Industries served include: automotive, packaging, food processing, beverages, tire, primary metals, conventional and alternative energy, semiconductor, plastics, and fluid power.
Contact This Company Download Spec Sheet
More from Controls & Controllers