Pressure Sensors / Detectors / Transducers
Ballistic Pressure Sensor lasts through thousands of rounds.
Press Release Summary: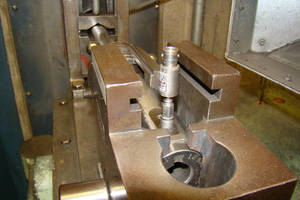 Designed to conform to shot gun shell when mounted in universal receivers, Model 165B02 charge output pressure sensor measures internal ballistics of sporting, police, and military shot guns. Piezoelectric pressure sensor features quartz sensing elements and solid-state construction with high-strength steel housing. It is available with full-scale measurement ranges to 30k psi with over-range to 70k psi.
---
Original Press Release:

New Shot Gun Shell Pressure Sensor Available with Long Life



November 16, 2009, Depew, NY, USA - The Aerospace & Defense division of PCB Piezotronics, Inc. (PCB®) has introduced a new charge output pressure sensor, Model 165B02, designed expressly for measurement of internal ballistics of sporting, police, and military Shot Guns. Ballistic pressure measurement is used to improve/verify Shot Gun Shell propellant properties, peak pressure, burn time, and performance of the gun. The sensors are design to conform to the shot gun shell when mounted in universal receivers.

The rugged piezoelectric pressure sensors are structured with quartz sensing elements and last thousands of rounds. Sensors are available with full-scale measurement ranges to 30k psi (2070 bar) with over-range to 70k psi (5170 bar) and are calibrated according to Sporting Arms and Manufacturers' Institute, Inc. (SAAMI) and the Permanent International Standards for the Proof of Small Arms (C.I.P.) standards. They feature solid-state construction, no moving parts, high-strength steel housings, and high frequency response.

PCB Aerospace & Defense is a dedicated sales, engineering, manufacturing and support group located in Depew, New York, devoted to the sensing needs of the global market. This team is focused on the development and application of products and services for development, qualification and production verification programs, including modal analysis, ground test, flight test, engine test, maritime environmental test, qualification and certification test, wind tunnel testing, acoustic testing, ballistic testing, and ammunition tests. This PCB® Group also provides sensors for use on aerospace and defense aircraft and vehicle systems including health and usage monitoring, engine vibration monitoring, active noise and vibration cancellation, rotor balance, bearing fault detection, launch and separation shock monitoring, and fuze and safe and arm shock monitoring.

PCB Piezotronics, Inc. is a global leader in the design and manufacture of force, torque, load, strain, pressure, acoustic and vibration sensors, as well as the pioneer of ICP® technology. This instrumentation is used for test, measurement, monitoring, and feedback control requirements in automotive, aerospace, industrial, R&D, military, educational, commercial, and OEM applications. PCB® offers 24-hour customer support, a strategic global distribution network, and a Total Customer Satisfaction guarantee. For more information about PCB Piezotronics, visit www.pcb.com.

PCB and ICP are registered trademarks of PCB Group, Inc.