Ball Wins British Aerosol Manufacturing Association Innovation Award for Tactile Can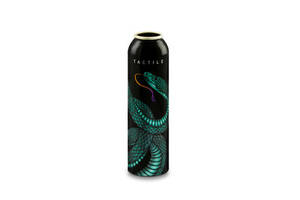 BROOMFIELD, Colo., Nov. 3, 2017 - Ball Corporation (NYSE: BLL) recently won a 2017 British Aerosol Manufacturing Association (BAMA) Aerosol Packaging Award for its Tactile can, which the company designed and produced.
Ball's innovative design and distinctive tactile print finish were brought to life by a snake featured prominently on an aluminum aerosol can. Tactile is an ink that provides texture on the can for a unique consumer interaction with the package. Ball is able to apply the ink around 360 degrees of the can. Enough of the tactile ink is "laid" on the can so it provides grip for the consumer. Tactile ink is a subtle art and Ball leverages significant technical experience in printing this ink on aerosol cans, which was gleaned from the learnings of its beverage business.
Of the competition this year, the judges said, "The standard of the entries was extremely high, which not only made the experience hugely enjoyable, but also reminded us why the UK aerosol industry is so successful. Our congratulations go to all the entrants, and especially to the winners!"
The British Aerosol Manufacturers' Association (BAMA) is a trade association that represents the UK aerosol industry. BAMA's membership covers every aspect of the aerosol sector ranging from component and ingredient suppliers to fillers, can makers and marketers. The winners of its annual awards were announced at the 2017 Forum and Awards Dinner, held at the prestigious Oulton Hall, Leeds.
About Ball Corporation
Ball Corporation supplies innovative, sustainable packaging solutions for beverage, food and household products customers, as well as aerospace and other technologies and services primarily for the U.S. government. Ball Corporation and its subsidiaries employ 18,450 people worldwide and reported 2016 sales of $9.1 billion. For more information, visit www.ball.com.
Related