Ball Valve can be actuated pneumatically or electrically.
Press Release Summary: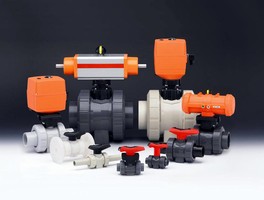 Available in 2½, 3, and 4 in. sizes, Type 546 Ball Valve features ratchet styled handle that permits settings in 5° increments and splash-proof module housing. PVC and CPVC versions are rated for up to 232 psi, while ABS and PP versions are rated for up to 150 psi. Electric position feedback switch signals controller to indicate valve position and transmit information remotely. Multifunctional module allows addition of accessories, actuators, and switches.
---
Original Press Release:

GF Piping's New Large Diameter Ball Valve Features Sophisticated Actuation and Feedback Capabilities in Efficiently Designed Package



TUSTIN,Calif. - Dec. 1, 2006 - Offering increased application range diversity and sophisticated functionality, GF Piping Systems has introduced the Type 546 Ball Valve in sizes 2-1/2", 3" and 4". Complete modularity and versatility is achieved through its multifunctional module, pneumatic or electric actuation, and a wide range of accessories, from simple to complex. The new valve is suitable for use across a broad spectrum of applications including industrial water treatment, swimming pools, aquariums, water parks, waste water technology, potable water treatment, chemical distribution, electroplating and power plants.

Available in five materials, Polypropylene, PVC, CPVC, ABS, and PVDF (polyvinylidene fluoride), the Type 546 Valve's multifunction module significantly expands the number of uses by allowing the user to easily add different accessories, actuators and switches. Using the multifunctional module, the new valves can be easily actuated with GF Piping's PA Series of Pneumatic Actuators or EA31 Electric Actuators. The module's electric position feedback switch, available for both manual and actuated versions, signals a controller to indicate valve position and also transmits the information remotely, providing an excellent means of monitoring for both control and safety. With standard EN ISO 5211 interface, the module allows a variety of micro switches including Ag-Ni, Au as well as inductive switches with NPN, PNP and Namur signals for optimum versatility. The splash-proof module housing is manufactured of 30 percent glass-reinforced polypropylene for robust construction and secure mounting.

Designed for maximum efficiency and space-saving economies, the Type 546 Valve requires minimum torque for operation, allowing for smaller, less expensive actuators. This results in less wear, easier movement and longer valve life.

The Type 546 Valve incorporates a number of additional features that provide ease of use and high performance. The lockable handle (available in black or red) prevents accidental movement or unwanted manipulation while its ratchet styling permits settings in 5 degree increments for precise positioning. Other outstanding characteristics include stainless steel threaded inserts for easy mounting, a smooth ball surface that prevents formation of deposits, and a special backing seal that ensures tight sealing, even with water hammer. The valve is rated for pressures up to 232 PSI (in PVC and CPVC) and 150 PSI (in ABS and PP).

With the new size ranges and added features, the new offering completes the Type 546 product line to provide a total of ten different sizes from 3/8" all the way to 4", allowing users to select one valve series to fit virtually any requirement; from the simplest to the most demanding applications.

"These valves have more features than most," explains Brian Gordon, GF Piping Systems Product Manager. "For example, the position feedback feature for a manual ball valve is very rare. When you combine the five different materials, the variety of options, and the actuators, there are thousands of combinations, allowing a single valve series to be used in more applications than any other valve on the market."

GF Piping supplies a full range of plastic pipe, fittings, tubing, valves, actuators, rotameters, fusion machines, secondary containment, tank linings, heat exchangers, custom products, and sensors and instrumentation for industrial process control. For further information, please contact GF Piping Systems, 2882 Dow Avenue, Tustin, CA 92780-7258; Toll Free (800) 854-4090, Fax (714) 731-6923;
e-mail: [email protected]; Web: www.gfpiping.com

GF Piping Systems
Brian Gordon
(714) 731-8800
[email protected]