Ball Screw Jacks lift up to 50-tons.
Press Release Summary: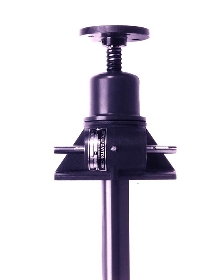 Four sizes of ball screw jacks have been added to product line, including second model of company's 10-ton unit, plus addition of 20-ton, 30-ton, and 50-ton units. Redesigned 10-ton ball screw jack has longer life ball nut and screw than previous model. All have Timken bearing arrangement that fully captures gear, giving radial support for work gear alignment, increased thrust capacity, longer gear life and reduced screw oscillation.
---
Original Press Release:
Joyce/Dayton Expands Ball Screw Jack Line

DAYTON, Ohio (May 13, 2002) - Joyce/Dayton Corporation today announced the recent addition of four sizes of ball screw jacks to its standard line of products.

The expansion includes a second model of the company's 10-ton unit, along with the addition of a 20-ton unit, a 30-ton unit and a 50-ton unit.

Joyce/Dayton ball screw jacks offer high efficiency with up to two-thirds less input torque required to move a load than similarly rated machine screw jacks. Unlike ordinary ball screw jacks, Joyce/Dayton's unique Timken bearing arrangement fully captures the gear, giving superior radial support for consistent work gear alignment, increased thrust capacity, longer gear life and reduced screw oscillation.

The redesigned 10-ton ball screw jack has a longer life ball nut and screw than the previous model. The new 10-ton ball screw jack provides superior column length and ball nut life when compared to the industry's typical 10-ton ball screw jack. These accomplishments are achieved thanks to a 2" diameter ball screw design, whereas the industry's typical 10-ton ball screw jack utilizes a 1.5" diameter ball screw.

Whether the application requires leveling log homes to lifting a ship out of dry-dock, Joyce/Dayton has the engineering experience and expertise to precisely lift and position loads from 250 pounds to 250 tons. Founded in 1873 and headquartered in Dayton, Ohio, Joyce products are used in a wide variety of industries worldwide, including satellite tracking, food processing, entertainment, metalworking and metal processing, and many others. For more information about Joyce, visit the company's web site at www.joycedayton.com.

JOYCE/DAYTON CORP.

P.O. Box 1630 Dayton, Ohio 45401-1630
Phone (937) 294-6261
Corporate Fax (937) 297-7173
LED Fax (937) 294-7631
www.joycedayton.com

Designers and Builders of Lifting Equipment Since 1873

Joyce Jacks Joyce Lifts Joyce Materialifts