Ball Runner Blocks offer high travel accuracy.
Press Release Summary: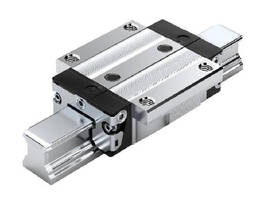 By reducing pulsation when placed under load, BSHP Ball Runner Blocks optimize accuracy of cutting machine tools, measuring machines, and glass machining equipment. Steel inserts elastically adapt to operating load so that balls can enter entry zone smoothly, without pulse-like stresses. Available in sizes 15–65, runner blocks feature high dynamic load capacities that extend service life and are interchangeable into existing profiled rail applications.
---
Original Press Release:

Ball Rail Systems: Twice the Service Life and High Travel Accuracy



New BSHP ball runner block from Rexroth



The patented entry zone of the new BSHP ball runner blocks from Rexroth improves travel accuracy and work piece quality while greatly increasing load capacities and service life. These runner blocks are available in most sizes, versions, and accuracy classes. BSHP ball runner blocks are 100% interchangeable into existing profiled rail applications using the same part number as before.



The new BSHP runner blocks distinguish themselves from the previous generation by reducing pulsation when placed under a load. The machining quality and accuracy of cutting machine tools, measuring machines, glass machining equipment and other tooling benefit as a result of reduced pulsation.



Rexroth has also boosted dynamic load capacities by approximately 26 percent with static load capacities improving by as much as 50 percent. Dynamic load capacities form the basis for service life calculations. The higher dynamic values lead to a service life that is up to 200 percent longer. Higher load capacities also promote energy-efficient lightweight construction for new machine concepts as the new runner blocks can allow machine manufacturers to use a smaller size than before without sacrificing performance. Downsizing saves weight, installation space and money.



Advancements in travel accuracy and reduced fluctuation in friction force are realized by Rexroth's patented entry zone in the ball runner block. The steel inserts elastically adapt to the operating load so that the balls can enter the entry zone smoothly, without any pulse-like stresses. The entry zone individually adapts to the current operating load of the ball runner block.



The new BSHP ball rail runner blocks also align with Rexroth's interchangeable design, whereby users can combine the runner block and profiled rails of identical sizes as required. This reduces logistics, assembly and servicing outlay throughout the entire lifecycle. The new BSHP runner blocks in sizes 15 to 65 are 100% interchangeable into existing profiled rail applications using the same part number as before.



For more information on the BSHP ball runner blocks: http://www.boschrexroth.com/en/xc/products/product-groups/linear-motion-technology/profiled-rail-systems/ball-rail-systems/index.



About Bosch Rexroth

Economical, precise, safe, and energy efficient: drive and control technology from Bosch Rexroth moves machines and systems of any size. The company bundles global application experience in the market segments of Mobile Applications, Machinery Applications and Engineering, Factory Automation, and Renewable Energies to develop innovative components as well as tailored system solutions and services. Bosch Rexroth offers its customers hydraulics, electric drives and controls, gear technology, and linear motion and assembly technology all from one source. With locations in over 80 countries, more than 33,700 associates generated sales revenue of approximately $7.4 billion (5.6 billion euros) in 2014. To learn more, please visit www.boschrexroth-us.com.



About Bosch

Having established a regional presence in 1906 in North America, the Bosch Group employs some 28,700 associates in more than 100 locations, as of April 1, 2015. In 2014, Bosch generated consolidated sales of $11.3 billion in the U.S., Canada and Mexico. For more information, visit www.boschusa.com,  www.bosch.com.mx  and www.bosch.ca.



The Bosch Group is a leading global supplier of technology and services. It employs roughly 360,000 associates worldwide (as per April 1, 2015). The company generated sales of $65 billion (49 billion euros) in 2014.* Its operations are divided into four business sectors: Mobility Solutions, Industrial Technology, Consumer Goods, and Energy and Building Technology. The Bosch Group comprises Robert Bosch GmbH and its roughly 440 subsidiary and regional companies in some 60 countries. Including its sales and service partners, Bosch is represented in roughly 150 countries. This worldwide development, manufacturing, and sales network is the foundation for further growth. In 2014, Bosch applied for some 4,600 patents worldwide. The Bosch Group's strategic objective is to create solutions for a connected life. Bosch improves quality of life worldwide with products and services that are innovative and spark enthusiasm. In short, Bosch creates technology that is "Invented for life." Additional information is available online at www.bosch.com and www.bosch-press.com,  http://twitter.com/BoschPresse.



*The sales figure disclosed for 2014 does not include the former joint ventures BSH Bosch und Siemens Hausgeräte GmbH (now BSH Hausgeräte GmbH) and ZF Lenksysteme GmbH (now Robert Bosch Automotive Steering GmbH), which have since been fully acquired.



Contact for Journalists:

Bosch Rexroth Corporation

Susan Strauss

2315 City Line Road

Bethlehem, PA 18017

Telephone (610) 694-8352

Fax (610) 694-8352

susan.strauss@boschrexroth-us.com

More from Electrical Equipment & Systems