Ball Detent Torque Limiters disengage at preset values.
Press Release Summary: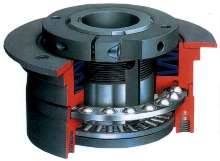 Bidirectional Type BD torque limiters protect rotating machines and components from damage in case of jam/overload. Adjustable overload settings cause unit to disengage mechanically when overload occurs and trip a limit switch or signaling device. BDR units have automatic random reset, while BDS units offer automatic single position reset and use rollers instead of balls. Random reset or single position units are available in sizes from 44-35,000 lb-in.
---
Original Press Release:
Ringfeder Type BD Torque Limiters Protect Against Overloads
Westwood, New Jersey- Ringfeder Corporation offers high-quality ball detent torque limiters (Type BD) that are designed to protect rotating machine components and machines from damage or destruction in the instance of a jam or overload. The Type BD torque limiter is easily adjustable for overload settings and when an overload occurs, it will quickly and accurately disengage mechanically at its preset value and trip a limit switch or other signaling device. Personnel safety is also increased by installing the Type BD, because when an overload occurs and the torque limiter trips an optional limit switch, a signal is sent to automatically shut off the drive or sound an alarm depending on the customer's needs. Ringfeder torque limiters work with a variety of limit switches, including: mechanical, optical or proximity limit switches. The unit will automatically reset once the overload has been removed, reducing costly downtime. The Ringfeder Type BD torque limiter is designed with high-quality materials and acute craftsmanship, meeting all ISO 9000 standards. The Type BD torque limiters are more responsive and predictable than fiction torque limiters because of their accuracy indisengaging at preset torque values. This accuracy, plus a higher torque capacity, makes the ball detent torque limiter ideal for applications where precision is a must such as in packaging, woodworking, textile or food processing industries. Ringfeder torque limiters are available in numerous configurations and combinations with couplings to meet a variety of specific requirements. They are easily adjustable over a wide torque range to meet the specific needs of operating and start-up conditions. The Type BD torque limiter is also bidirectional. There are two types of BD torque limiters available: the BDR, which has an automatic random reset, and the BDS, which offers an automatic single position reset and uses rollers instead of balls. The random reset or single position units are available in sizes from 44 to 35,000 lb-ins. Some units are available with pneumatic or electrical controls. Ringfeder Corporation offers a complete line of torque limiters including: Backlash Free (Type BF), Friction (Type FC), Extended Travel (Type GS) and Ball Detent (Type BD), plus torque limiter couplings and axial overload limiters. For more than 30 years, Ringfeder Corporation has been the leading manufacturer of keyless locking devices in North America. The company markets a wide range of power transmission components including friction springs, keyless shaft/hub connections, flexible couplings, rubber disc couplings, torque limiters and torque wrenches along with a wide range of other specialty and custom made products. For more information on Ringfeder Corporation's full-line of torque limiters or the entire line of Ringfeder products log on to www.ringfeder.com or call 1-800-245-2580. For more information on this release or additional photography, please call advantage marketing communications at 908-850-8710.
Related