Ball Corporation Wins Aerosol Packaging Award for Innovative ReAl™ Canmaking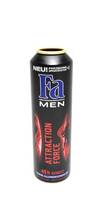 BROOMFIELD, Colo., Nov. 9, 2016 - Ball Corporation (NYSE: BLL) recently won a 2016 Aerosol Packaging award from the British Aerosol Manufacturers' Association (BAMA) for its ReAl™ Henkel Fa Men Attraction Force can.
The Henkel Fa Men Attraction Force can is 10 percent lighter than a standard can, which lends itself to a smaller overall carbon footprint. The Attraction Force can is also the first with a flat shoulder design in Ball's ReAl™ packaging. The BAMA award for the Fa Men Attraction Force demonstrates recognition from the industry for the versatility of Ball's ReAl™ cans, as well as Ball Corporation's commitment to a sustainable and responsible manufacturing process.
ReAl™ is a lighter extruded aluminum can manufactured with revolutionary metal technology, which utilizes recycled aluminum to create a metal alloy that exhibits increased strength and allows lightweighting of the container without affecting package integrity. This breakthrough technology allows Ball to lightweight its extruded aluminum aerosol packaging by 20 percent and more. Ball's revolutionary ReAl™ packaging was introduced in 2012 to meet the need for a more sustainable aerosol can. By 2014, it was well received in the market and demand for the can was rising rapidly. In 2016, Ball continues to evolve the possibilities available with ReAl™ packaging, which now supports both shaping and specialty printing techniques.
About Ball Corporation
Ball Corporation supplies innovative, sustainable packaging solutions for beverage, food and household products customers, as well as aerospace and other technologies and services primarily for the U.S. government. Ball Corporation and its subsidiaries employ 18,700 people worldwide and reported pro forma 2015 sales of $11.0 billion. For more information, visit www.ball.com,
SOURCE Ball Corporation
Investor Contact:
Ann T. Scott,
(303) 460-3537,
Media Contact:
Renee Robinson,
(303) 460-2476,
Web Site: http://www.ball.com
Related