Ball Corporation's New Aluminum Cans Provide Branding Advantages
Press Release Summary: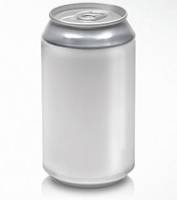 Ball Corporation is now offering aluminum cans with customer branding on the top of the can. The Cameo End Printing on the can offers customer with functional benefits and enable customer to search easily for favorite brands in coolers and convenience stores.
---
Original Press Release:
Ball to Pop Top on Cameo Beverage Can End Printing
BROOMFIELD, Colo., April 26, 2018 /PRNewswire/ -- Ball Corporation's (NYSE:BLL) newest beverage can innovation is helping customers put a colorful lid on their infinitely recyclable aluminum cans from Ball. Available for the first time, Ball's proprietary Cameo End Printing extends customer branding to the top of the can, making the top pop and adding appeal for consumers looking for their favorite beverages.
Ball will debut Cameo End Printing next week at the Brewers Association Craft Brewers Conference and BrewExpo America®. The CBC is April 30-May 3 in Nashville, with Ball hosting customers in booth #1512, the Sustainability Track in Davidson Ballroom B, and at the Music City CANarchy outdoor festival in Walk of Fame Park.
"Ball's Cameo End Printing delivers both branding advantages for our customers, and functional benefits for consumers," says Jay Billings, vice president, commercial, for Ball's beverage packaging North & Central America business. "For our customers, Cameo extends the can's 360-degree billboard to the top of the package, further increasing brand visibility and offering exciting new possibilities for contests, special promotions and limited release packaging. For consumers, Cameo makes searching for your favorite brand easier in coolers and convenience stores, where the top of the can may be the most visible part of the package."
Cameo will be commercially available in early 2019.
About Ball Corporation
Ball Corporation supplies innovative, sustainable packaging solutions for beverage, food and household products customers, as well as aerospace and other technologies and services primarily for the U.S. government. Ball Corporation and its subsidiaries employ 18,300 people worldwide and reported 2017 net sales of $11 billion. For more information, visit www.ball.com, or connect with us on Facebook or Twitter.
Media Contact: Scott McCarty, 303-460-5774, smccarty@ball.com
Related