Ball Bearings withstand temperatures up to 180°F.
Press Release Summary: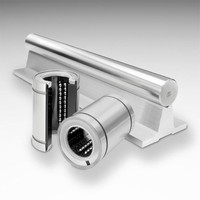 Designed for harsh environments, Thomson Stainless Steel MultiTrac Ball Bushing® bearings are constructed of 440 stainless steel components to resist rust and corrosion. They offer coefficient of friction as low as 0.001, and deliver steady state travel speeds up to 10 fps and accelerations to 450 ft/s² without use of derating factors. Available in 8, 12, 16, 20, 25, and 30 mm sizes with adjustable, closed, and open configurations, bearings feature multiple track design.
---
Original Press Release:

New Thomson Stainless Steel MultiTrac Ball Bushing® Bearings Deliver High Performance in Harsh Environments



Superior quality design and materials deliver optimum reliability, while reducing space and system costs

WOOD DALE, IL - Danaher Motion introduces Thomson Stainless Steel MultiTrac Ball Bushing® bearings. Constructed of 440 stainless steel components to resist rust and corrosion, these bearings are built to thrive in harsh environments with temperatures up to 180ºF (82ºC). Machine builders will benefit from extended service intervals and longer bearing life, increased machine reliability and reduced service and support costs. They feature a patented multiple track design that delivers up to twice the load carrying capacity, or 8 times the operating life, of conventional linear bearings. When combined with Thomson stainless steel 60 Case shafting the shaft life is also extended when compared to conventional shafting. Most sizes are available with same or next day delivery.

"With a coefficient of friction as low as 0.001, these Ball Bushing bearings allow machine builders to use smaller, less expensive motors, belts, gears and ball screws when replacing high friction, plain bearings, to help them build a better machine, faster, and more cost effectively," says Ellen Steinbrunner, Product Line Manager, Thomson Shafting and Linear Ball Bushing Bearings. "Users will also benefit from patented ball control technology that ensures optimum rolling element transition while eliminating the binding and chatter common to plain bushings and sliding-way bearings. Wear resistant, engineered-polymer retainers further reduce inertia and noise levels for extremely smooth, quiet machine operation," she says.

Thomson Stainless Steel MultiTrac Ball Bushing bearings deliver steady state travel speeds up to 10 ft/s (3 m/s) and accelerations to 450 ft/s² (150 m/s²), without the use of derating factors that are typically necessary with competitive products. Derating factors can result in the need to specify larger, more expensive bearings to deliver the same level of performance that is achieved with smaller Thomson Stainless Steel MultiTrac Ball Bushing bearings.

Thomson Stainless Steel MultiTrac Ball Bushing bearings are available in 8, 12, 16, 20, 25, and 30 mm sizes as standard, with adjustable, closed and open configurations. They feature industry standard dimensions for direct interchange with competitive and legacy applications, and their corrosion-resistant design makes them well suited for use in various industrial automation, food and beverage, and medical device applications, among others. They are also available from local stock in Europe and North America, with worldwide availability from over 1800 authorized distributors.

When combined with genuine Thomson 60 Case shafting, Thomson Stainless Steel MultiTrac Ball Bushing bearings deliver even longer life and higher load carrying capacity when compared with conventional linear bearings, allowing users to minimize component size for reduced space requirements and system costs. To learn more about completing an application with genuine Thomson 60 Case shafting and shaft supports, visit www.danahermotion.com/website/com/eng/products/linear_guides/shafting.php.

About Thomson

With more than 60 years of motion control innovation and quality, Thomson is the industry's premiere producer of Ball Bushing and Profile Rail bearings, 60 Case Shafting, ground and rolled Ball Screws and related accessories. Thomson pioneered the Ball Bushing bearing in 1945, and has set the standard ever since with an unsurpassed set of mechanical motion control solutions serving commercial and aerospace & defense markets around the world. Thomson is a trusted brand of Danaher Motion.

About Danaher Motion

Danaher Motion is a leading global manufacturer of motion control products that improve the efficiency and productivity of complex manufacturing operations. Danaher Motion's product innovations have been revolutionizing the motion control industry for over 60 years through trusted brand names including Kollmorgen, Thomson and Dover.

Danaher Motion,
1500 Mittel Boulevard,
Wood Dale, IL 60191-1073;
1-866-993-2624;
1-636-281-1517 (fax);
ContactUs@DanaherMotion.com;
www.DanaherMotion.com.

Company Contact:
Rob Gallagher
Danaher Motion
630.694.3321
Rob.Gallagher@danahermotion.com

More from Architectural & Civil Engineering Products