Ball Bearing offers concentric mounting.
Press Release Summary: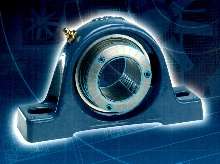 ConCentra Air Handling Ball Bearing Unit employs multi-step sleeve arrangement to form near 360° interference fit with shaft. Concentric fit reduces noise and vibration and leaves no gaps between shaft and bearing bore, reducing risk of fretting corrosion. Two-part sealing arrangement, consisting of low-friction contact seal and phosphated metallic flinger, prevents solid and liquid contaminants from entering bearing cavity. Unit comes in bore sizes from 1 to 2 15/16 in.
---
Original Press Release:

New SKF® ConCentra Ball Bearing Unit Offers High Reliability, Low-Noise Operation in Air Handling Applications


New design is first air handling ball bearing unit with patented SKF concentric mounting technology

KULPSVILLE, PA-A new air handling ball bearing unit that offers long-life, low-vibration performance while reducing fretting corrosion and overall maintenance requirements is now available from SKF® USA Inc. Called the SKF ConCentra Air Handling Ball Bearing Unit, the product is designed for fan and blower applications in original equipment or as an upgrade for conventional set-screw or eccentric collar locking bearing units in aftermarket applications.

"Although this technology has been available in some SKF roller bearing units for about a decade, the ConCentra is the first air handling ball bearing unit featuring SKF concentric locking technology," says Marketing Manager Dan Korona.

Unlike conventional set-screw bearing units, which contact the shaft in only three places, the SKF ConCentra Air Handling Ball Bearing Unit employs a patented multi-step sleeve arrangement to form a near 360-degree interference fit with the shaft. During installation, as set screws are tightened, the bearing unit's inner ring is moved up a series of inclined planes, compressing a sleeve around the shaft. The resulting secure concentric fit reduces noise and vibration in high-speed air-handling applications, and allows the ConCentra unit to run at its bearing's full dynamic load capacity.

In addition, SKF concentric mounting technology provides a high locking force without requiring extremely close shaft tolerances. Original equipment manufacturers can employ commercial-grade or even hollow shafts in new fan and blower designs in place of more costly ground or polished shafts normally required with conventional set-screw air handling units.

Reduces Fretting Corrosion

Because the Concentra's near 360-degree fit leaves no gaps between the shaft and bearing bore, the risk of fretting corrosion there is significantly reduced. This allows users to dismount ConCentra bearing units more easily and makes reusing the bearing units possible.

The ConCentra's two-part sealing arrangement, consisting of a low-friction contact seal and phosphated metallic flinger, prevents solid and liquid contaminants from entering the bearing cavity. The unit is lubricated for life with special air-handling-quality grease.

The unit is available in pillow block and two- and four-bolt flange versions. It comes in the following bore sizes, which fit most standard fans and blowers: 1, 1 3/16, 1 3/8, 1 ¼, 1 7/16, 1 ½, 1 11/16, 1 15/16, 2 3/16, 2 7/16, and 2 15/16 inches.

Visit: www.skfusa.com

SKF USA Inc. is the world's largest manufacturer of rolling bearings and accessories. SKF USA Inc. employs approximately 5,100 people in the U.S., and has nine manufacturing locations and close to 1,200 authorized distributor branch locations. Worldwide, SKF sells its product line in more than 130 nations.

Forward all reader service inquiries to:

SKF USA Inc.
1510 Gehman Road
Kulpsville, PA 19443
Fax: (215) 513-4736
Attn: Market Communications Dept


More from Electronic Components & Devices