Balancing Equipment facilitates high-speed machining.
Press Release Summary: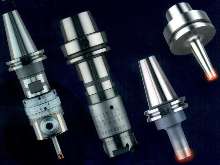 Balancing Equipment, available with 1- or 2-plane measuring capabilities, has setup software that identifies location of unbalance on toolholder. It allows for balancing methods including balancing rings, or basic drilling for metal removal. Unit comes with standard clam ping spindle, in CT 40, CT 50, HSK 40 or HSK 63 Forms A through F. Equipment is designed for use with ThermoLock® Shrink Fit toolholders, and MicroMax(TM) and VersaMax(TM) boring heads.
---
Original Press Release:

High Speed Machining Solutions Enhance Productiivty, Accuracy and Finish


Ramsey, MN - November 15, 2004 - Command Tooling Systems has expanded its high -speed productivity line with new balancing equipment, additions to the company's ThermoLock® Shrink Fit* toolholder line, and URMA MicroMax(TM) and VersaMax(TM) balanceable boring heads. These solutions are engineered for the highest degree of balance for improved accuracy and outstanding performance at high speeds and for machining extremely hard materials.

"These high speed solutions can greatly enhance productivity and reduce cycle times," said Steve Lovendahl, product manager. "At the same time, operators will also realize improved surface finish, greater accuracy, and extended tool life" Lovendahl added.

The new balancing equipment is available with either one or two -plane measuring capabilities. The setup software features a help screen - as well as laser marking - to identify the exact location of unbalance on the toolholder. Software allows for balancing methods including balancing rings, or basic drilling for metal removal. The unit comes with one standard clam ping spindle, in CT 40, CT 50, HSK 40 or HSK 63 Forms A through F. Additional clamping spindles can be installed easily.

ThermoLock Shrink Fit Toolholders offer the most advanced TIR level and 360 -degree concentric gripping power. Command has announced expansion to their line of holders including straight shank extensions, HSK 40A, HSK 40E, HSK 63F, HSK 100 and a range of small diameters holders down to 1/8" or 3 mm. Ideal for precision and high production demands, ThermoLock toolholders use no set screws or collets to lock the cutting tool into the holder. Command has also introduced an economical tool change machine that can quickly load carbide or high speed steel cutters into the holder by inductive heating to expand the holder bore. The speed cooling feature of the machine ensures consistent cooling around the entire bore, minimizing runout. The machine features a rotating three station design for expedient tool change heating and cooling.

URMA MicroMax(TM) and VersaMax(TM) Boring Heads were the first to bring adjustable-balance technology to precision boring. Capable of limited residual imbalance to as low as 10 g.mm., these heads virtually eliminate vibration for high -speed productivity at any speed up to 20,000 RPM.

"Use of MicroMax(TM) and VersaMax(TM) heads, even in lower speed applications, has significant benefit in improved bore roundness, accuracy, repeatability and surface finish," says Lovendahl. "Their high -speed performance provides shorter cycle times and longer tool life."

MicroMax is offered for bore sizes from .040" to 1.575". Bore size is set by selecting the diameter on the dial in increments of .0001". For increased accuracy, the matching bore diameter is selected on one of two calibration collars -- either the carbide or the steel boring bar scale -- depending on the type of boring bar being used. VersaMax is for larger diameter high -speed boring applications in bore sizes from .787" to 2.638". The head is set by simply positioning the calibrated balance adjustment rings to match the desired bore diameter. In both heads, the bore diameter settings can be adjusted to .0002" accuracy on diameter, with virtually no backlash. Urma boring heads are designed for through -the-spindle coolant with internal passageways to deliver cutting fluid directly to the cutting area without contaminating the adjustment mechanisms. Command stocks a full range of toolholders, inserts, and components - along with the widest range of carbide and steel boring bars - to optimize boring productivity wit h the balanceable MicroMax and VersaMax boring system.

To cut finish times by 50%, 5 degree finishing insert cartridges have been introduced so that MicroMax, VersaMax and IntraMax(TM) fine boring heads can utilize wiper inserts. "With the wiper indexable insert geometry - originally developed for faster turning applications - we can double finish boring feed rates while maintaining surface finish quality", states Lovendahl.

URMA MicroMax and VersaMax heads are adaptable with either the original Alpha Modul threaded connection or the "quick change" Beta Modul® connection to the toolholder adaptors, and work seamlessly with most popular machining centers including those with HSK 63A and 100A, V -Flange and BT tooling.

Command Tooling Systems is the technology leader in toolholder manufacturing for high -precision machining operations serving many industries, including automotive, aerospace, computer, defense, electronic, job shop and medical equipment. Since forming a relationship with URMA AG Werkzeug of Rupperswil, Switzerland in 1988, Command has marketed URMA modular boring tools in North America. Command stocks a full range of toolholders, inserts, and components to optimize boring productivity. For more information or to request a quote on ThermoLock® Shrink Fit toolholders, or MicroMax and VersaMax Boring Heads, contact: Command Tooling Systems; 13931 Sunfish Lake Blvd.: Ramsey, MN 55303 Ph: 763/576-6910 Fax: 763-576-6911. www.commandtool.com.

Beta Modul® is a registered trademark of URMA AG. IntraMax(TM), MicroMax(TM), VersaMax(TM) and Command(TM) are trademarks of Command Tooling Systems LLC. ThermoLock® is a registered trademark of Command Tooling Systems LLC.

*With Shrinker® Technology. Shrinker is a registered trade mark of Tooling Innovations, Dana Point, CA.

Related