Baker Furnace Ships Heavy Duty Industrial Oven for Heat Treating Aluminum Parts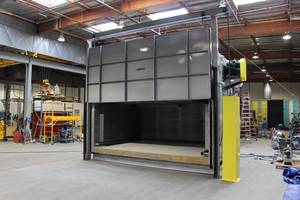 Brea, CA – April 20, 2017- Baker Furnace announced the shipment of a gas fired batch oven to an aluminum forging company. The industrial oven will be used to pre-heat large aluminum ingots used to manufacture parts for the Aerospace industry.
The maximum temperature rating of this industrial oven is 1000°F with work chamber dimensions of 14' W x 11' L X 6' H. The batch oven pre-heats large aluminum ingots to 1000°F. The ingots are then removed from the oven and placed in a forging press that forms the aluminum into a shape. The batch oven chamber is designed to withstand the impact of aluminum ingots weighing over 3,000 pounds as a forklift operator drops the aluminum ingots into the oven chamber.
"For this project, we needed to pay special attention to the chamber and floor design to ensure that no damage would occur from the impact of the aluminum ingots being loaded. A 10" thick hard castable refractory floor was one of the design features to make sure the oven could withstand the loading process." – Tim Bacon, VP Business Development
Unique features of this industrial oven include:
10" thick hard castable refractory floor
Vertical lift door with pneumatic locking mechanisms
Interior bumper guards to withstand impact
UL 508A listed control panel
About Baker Furnace
Baker Furnace, Inc. has been designing, engineering, and manufacturing industrial ovens, pollution control equipment and other heating equipment since 1980. Their custom and standard equipment are used for a multitude of applications including heat treating, finishing, drying, and curing. Many of the industries they serve require specific temperature uniformity and equipment performance documentation. Their experienced engineering team can meet even the most stringent standards for their customers' equipment.
Furnace is owned by Thermal Product Solutions ("TPS"), a leading American manufacturer of custom industrial ovens used for heat treating, finishing, drying, curing, manufacturing automation and process control. TPS is a global leader in thermal processing products and test solutions with brands including Blue M, Gruenberg, Tenney, Lindberg, Lunaire, MPH and Wisconsin Oven. For more information on equipment solutions from TPS visit the website at www.thermalproductsolutions.com.
Old Route 15
New Columbia, PA 17856 USA
T. 570.538.7200
F. 570.538.7391