Baker Furnace Ships Electric Retort Oven to a Supplier of the Automotive Industry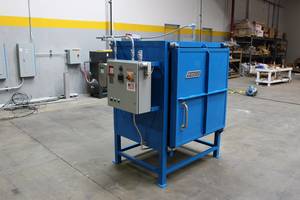 Brea, CA – March 14, 2017- Baker Furnace announced the shipment of an Electric Retort Oven to a supplier of the Automotive Industry. This retort oven will be used to dry a powdered propellant used in automotive airbags.
The maximum temperature rating of this industrial oven is 220°F with work chamber dimensions of 3' W x 3' L X 3' H. This oven utilizes a retort shell meaning that the propellant powder being processed in the chamber never makes direct contact with the heat source as the propellant can ignite if it comes in contact with high temperatures. Electric elements heat the stainless-steel retort shell which ultimately transfers heat to the interior of the retort chamber.
"At Baker Furnace, we have the experience and capability to supply equipment for processes that involve volatile material. In addition to the retort design on this project, we also included an air purge feature in the control panel to eliminate the risk of residual powder coming into contact with the contactors." – Tim Bacon, VP Business Development
Unique features of this electric retort oven include:
• Stainless steel retort shell with built in racks
• Inconel sheathed heating elements
• Control panel air purge to ensure residual powder does not come in contact with electrical contactors
• Baker Furnace's unique hinged door configuration with lifetime "no sag" guarantee
About Baker
Furnace Baker Furnace, Inc. has been designing, engineering, and manufacturing industrial ovens, pollution control equipment and other heating equipment since 1980. Their custom and standard equipment are used for a multitude of applications including heat treating, finishing, drying, and curing. Many of the industries they serve require specific temperature uniformity and equipment performance documentation. Their experienced engineering team can meet even the most stringent standards for their customers' equipment.
Baker Furnace is owned by Thermal Product Solutions ("TPS"), a leading American manufacturer of custom industrial ovens used for heat treating, finishing, drying, curing, manufacturing automation and process control. TPS is a global leader in thermal processing products and test solutions with brands including Blue M, Gruenberg, Tenney, Lindberg, MPH and Wisconsin Oven. For more information on equipment solutions from TPS visit the website at www.thermalproductsolutions.com.
2821 OLD ROUTE 15
NEW COLUMBIA, PA 17856 USA
T. 570.538.7200
F. 570.538.7391
More from Architectural & Civil Engineering Products