Material Handling and Storage Bags
Bags freeze and store human blood products.
Press Release Summary: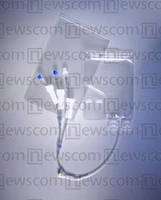 Designed to exceed standards for cryopreservation, CryoMACS® Freezing Bags handle freezing of blood components down to -196°C, storage, and thawing at 37°C. Each comes with corresponding overwrap bag, providing extra security. Spike ports eliminate liquid nitrogen ingress, which can contribute to product contamination. Available in 5 sizes with nominal storage volumes from 50-1,000 ml, CryoMACS Freezing Bags are made of tubular EVA material with minimum welds.
---
Original Press Release:

Advanced Bag Design for Cryopreservation: the New CryoMACS® Freezing Bag



BERGISCH GLADBACH, Germany, July 13/-- Miltenyi Biotec is proud to announce the new CryoMACS(R) Freezing Bags designed for freezing (down to -196 degreesC), storage, and thawing (at 37 degreesC) of human blood components. The CryoMACS Freezing Bags have been developed to meet customers' requirements and to exceed current standards for cryopreservation.

Each freezing bag comes with a corresponding overwrap bag, providing extra security for the freezing and storage of blood products. The spike ports of the CryoMACS Freezing Bags have been designed to eliminate liquid nitrogen ingress, which has been shown to contribute to product contamination during storage. Furthermore, each CryoMACS Freezing Bag - and its corresponding overwrap bag - is provided in individually packaged units. The outer packaging can be disinfected, allowing for convenient transfer into clean rooms.

The filled freezing bag, including the overwrap bag, fits into most commercially available freezing cassettes. The five sizes of CryoMACS Bags provide nominal storage volumes ranging from 50 to 1000 mL. The CryoMACS Freezing Bags are made of tubular EVA (ethylene vinyl acetate) material with minimum welds for high durability.

The CryoMACS Freezing Bags are available in Europe as CE-marked medical devices and have been submitted for 510k clearance with the U.S. FDA.

http://www.miltenyibiotec.com

http://www.cryomacs.com

The CryoMACS Freezing Bags are manufactured by Miltenyi Biotec GmbH and controlled under an ISO 13485 certified quality system. These products are available in Europe as CE-marked medical devices. FDA 510(k) submission under review. MACS and CryoMACS are registered trademarks of Miltenyi Biotec GmbH.

Miltenyi Biotec GmbH, Prof. Dr. Uwe Heinlein, Friedrich-Ebert-Strasse 68, 51429 Bergisch Gladbach, Germany, Phone +49-2204-8306-0, Fax +49-2204-85197, macs@miltenyibiotec.de

More from Material Handling & Storage