Bag Sealer outputs over 160 bags per minute.
Press Release Summary: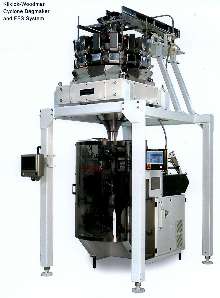 Cyclone features servo-driven design, which produces hypocycloidal motion of travel for bag sealing jaws, providing increased seal dwell time. Universal bag-seal range is 63-340 x 127-635 mm for lap-seal or fin-seal style pillow pouches. Independent, servo-driven, film pull-belts and rotary back-seam sealing promote quality seals and film registration. Cyclone is available with or without integrated product stripping.
---
Original Press Release:

New Bagmaker Sealing Movement for High Speeds with Extended Seal Time


The Cyclone bagmaker from Kliklok-Woodman is based on a new concept in high-speed vertical Form-Fill-Seal bag sealing. An exclusive servo-driven design produces a hypocycloidal motion of travel for the bag sealing jaws. This maintains the benefits typically attributed to continuous motion machines, such as high speeds and smooth operation, but also provides increased seal dwell time for improved bag integrity. The Cyclone offers substantial size flexibility, with a Universal Bag Size range
(from 63 - 340mm W x 127 - 635mm L) for lap-seal or fin-seal style pillow pouches.

Cyclone's speeds are nearly double those of conventional intermittent-motion machines, producing output to over 160 bags per minute. In many cases, it's capable of providing output equal to that of dual or twin-tube systems, while cutting floor space requirements in half. It can be readily integrated
with virtually any combination net-weigher, and offers simple controls for set-up and operation with Kliklok-Woodman's exclusive Insight® graphical MMI user interface.

Independent, servo-driven, film pull-belts and rotary back-seam sealing promote the highest quality bag seals and film registration. The Cyclone is available with or without integrated product stripping, and can include a range of options such as dual film supply spindles for rapid film changes, vacuum
film pull-belts, date coders/imprinters, bag re-closure applicators, and many other features.

The Cyclone is built to international (metric) specifications for worldwide performance.

For additional information, contact:
Mr. Curt Kuhr
Kliklok-Woodman
5224 Snapfinger Woods Drive
Decatur, GA 30035
Phone: 770-981-5200
Fax: 770-987-7160
e-mail: press©kliklok-woodman.com
http://www.kliklok-woodman.com

Related