Bag Gripper aids in palletizing plastic or paper bags.
Press Release Summary: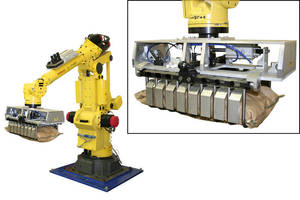 Featuring lightweight aluminum frame construction, Bag Gripper is used to palletize woven plastic or paper bags containing products including grain, chemicals, dog food, minerals, and plastic resins. It uses stainless steel fingers with customized finger pitch to match roller conveyor. Over-center linkage design keeps fingers shut in case of pneumatic or electric loss ensuring that bag is not dropped. Optional pallet hooks and slip sheet vacuum cups are also available.
---
Original Press Release:
SAS Automation, Introduces Bag Gripper
XENIA, OHIO (May 2009) - SAS Automation introduces new Bag Gripper. A specialized EOAT is often used to palletize woven plastic or paper bags containing many products including grain, chemicals, dog food, minerals and plastic resins. Because a vacuum tool may not secure these bags well due to air leakage, stainless steel fingers are used for both strength and their ability to withstand harsh manufacturing environments. The bags are presented to the robot on a roller conveyor allowing the custom spaced fingers to lift upwards between the rollers and secure the bag against the optional top compressor plate. When in position, the fingers open and the bag is positioned on the pallet. Most palletizing cells will require in-feed conveyors, a pallet feed system, safety guarding and a robot properly sized for reach and payload. o Aluminum frame construction to reduce overall weight and add life to your robot
o Stainless steel fingers for strength and harsh environments
o Customized finger pitch to match your roller conveyor
o Over-center linkage design keeps the fingers shut in case of pneumatic or electric loss (bag will not be dropped)
o Stabilizer guides to control the bag motion as it drops
o Optional pallet hooks
o Optional slip sheet vacuum cup About SAS Automation
SAS is a leading supplier of modular EOAT components, end effectors & robotic gripper systems - capable of servicing any part and any robot. SAS manufactures in the USA "get a grip!", and distributes "nip it!" Nile sprue nipper line, and "GRIP IT!" Asian chucking/gripper line. SAS is ISO 9001:2000 Quality Certified. Specialists in Robotic End-of-Arm tooling & Gripper systems, Sprue Nippers, CNC degating & Insert Mold tooling for manufacturing, packaging & plastics industries. Sales, service & support to: USA, Canada, Mexico, Europe. SAS - NPE Booth #S-10041 USA Company Contact:
Rob Dalton
rdalton@sas-automation.com Corporate Office - USA:
SAS Automation, LLC
1200 South Patton Street
Xenia, OH 45385 USA
TEL: +1 937- 372-5255
FAX: +1 937- 372-5555
getagrip@sasgripper.com www.sasgripper.com