Badger Meter Ultrasonic Thermal Energy Meter Receives Canada Weights and Measures Approval for Use in Canadian Applications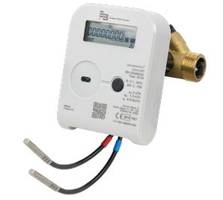 UHC100 ultrasonic meter measures heating/cooling energy in accordance with new industry standard
Milwaukee – Badger Meter, a leading global innovator and manufacturer of flow measurement, control and communications solutions, announced its Dynasonics® UHC100 ultrasonic thermal energy meter is one of the first instruments to receive the new Canada Weights and Measures approval for use in liquid heating and cooling applications in Canada.
The UHC100 meter meets the need for accurate measurement of thermal energy metering in accordance with strict industry guidelines. Serving as a thermal energy metering system, it calculates energy quantity (gigajoules, kilo or megawatt hours) by measuring the amount of liquid flowing through the flow sensor in a given timeframe, and the liquid temperature at the supply and return flow positions of the system, to obtain the temperature difference.
The UHC100 meter has already received Measuring Instruments Directive (MID) approval for compliance with the EN1434, 2014/32/EC standard for heat meters and their sub-components in the European Union (EU). This standard specifies the general requirements for metering devices used to measure the heat which, in a heat-exchange circuit, is absorbed or given up by a liquid called the heat-conveying liquid. The thermal energy meter indicates the quantity of heat in legal units.
This new certification will enable Badger Meter to meet the needs of Canadian end users seeking an effective solution for measuring heating and cooling energy as part of building automation and tenant sub-metering applications.
"We are pleased to receive the Canada Weights and Measures approval of our ultrasonic thermal energy meter, which will allow us to server a wider range of customers in the growing Canadian market," said Cheryl Ades Anspach, Senior Product Manager for Dynasonics, Badger Meter. "The UHC100 meter was designed to help end users obtain the most precise thermal energy measurements in a compact package."
The UHC100 meter can be used with heating/cooling water solutions in centrally heated or cooled spaces such as residential houses or buildings. The device offers:
No moving parts to wear out or drift over time
No straight run requirements
High accuracy
Wide range of measurement
Ease of mounting in any installation position
With a pulse output for use with nominal flows of 0.6…10 m³/hour, end fitting options include ½, ¾, 1 and 1-½ in. NPT for ASME/ANSI pipes. The meter's readings are stored in internal memory and monthly values are viewable on the display.
The UHC100 meter is delivered in user-configuration mode with the flexibility to configure meter parameters such as units, pulse outputs, and other features.
For more information about the UHC100 ultrasonic thermal energy meter, please visit http://www.badgermeter.com/UHC100.
About Badger Meter
Badger Meter is an innovator in flow measurement, control products, and communications solutions, serving water utilities, municipalities, and commercial and industrial customers worldwide. The Company's products measure water, oil, chemicals, and other fluids, and are known for accuracy, long-lasting durability and for providing valuable and timely measurement data. For more information, visit www.badgermeter.com.
Contact Information:
Katie Smith
ksmith@badgermeter.com
414-371-6237