Bacterial, Fungal DNA/RNA/Protein Kits streamline isolation.
Press Release Summary: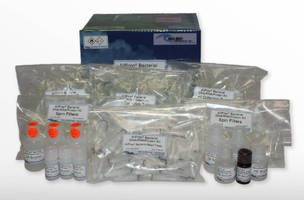 AllPrep® Bacterial and Fungal DNA/RNA/Protein Kits offer spin filter-based method that enables sequential DNA, RNA, and protein extraction in <40 min without precipitation. Bead beating method fosters efficient lysis and solubilization of nucleic acids and proteins from diverse fungal species as well as gram-negative and gram-positive bacteria. While nucleic acids can be used in PCR, qPCR, RT-PCR, and NGS, protein can be used for mass spectrometry as well as 1D and 2D gel electrophoresis.
---
Original Press Release:

MO BIO Laboratories Launches the AllPrep® Bacterial and Fungal DNA/RNA/Protein Kits



CARLSBAD, Calif. -- MO BIO Laboratories, a QIAGEN Company, the leader in soil, environmental, stool and microbial nucleic acid purification, announces the launch of the AllPrep® Bacterial and Fungal DNA/RNA/Protein Kits, for isolation of isolate total nucleic acids and cellular proteins from bacterial and fungal cultures in a quick and user-friendly spin filter format.



The AllPrep® Bacterial and Fungal DNA/RNA/Protein Kits feature an optimized bead beating method which enables efficient lysis and solubilization of nucleic acids and proteins from diverse fungal species, gram-negative and gram-positive bacteria. The use of silica spin columns  — a patent-pending technical advance in protein extraction —  to achieve reversible, sequential immobilization of DNA, RNA, and protein greatly streamlines the nucleic acid and protein isolation process, enabling direct correlations between genes, their expression, and function. Isolated nucleic acids (gDNA, rRNA, mRNA, small RNAs) are suitable for the most demanding downstream applications including PCR, qPCR, RT-PCR, and next-generation sequencing (NGS). Purified proteins are suitable for 1D SDS-PAGE and mass spectroscopy following in-gel trypsin digestion.



Features of the AllPrep® Bacterial and Fungal DNA/RNA/Protein Kits include:



Powerful lysis – An optimized bead beating method enables efficient lysis and solubilization of total nucleic acids and cellular proteins from fungi, gram-negative and gram-positive bacteria



Easy and fast method – A novel spin filter-based method enables sequential DNA, RNA, and protein extraction in less than 40 minutes without the need for precipitation



Accurate results – Nucleic acids can be used in PCR, qPCR, RT-PCR, and NGS; protein can be used for mass spectrometry, 1D and 2D gel electrophoresis



The AllPrep® Bacterial and Fungal DNA/RNA/Protein Kits are available now at https://mobio.com/products/protein-extraction/microbial.html



MO BIO Laboratories, a QIAGEN Company (www.mobio.com) has developed innovative tools for researchers in molecular biology since 1993. A global leader in solutions for soil, water and microbial nucleic acid purification, MO BIO's Power kits contain patented Inhibitor Removal Technology® for removal of PCR inhibiting substances during the nucleic acid purification procedure. At MO BIO, our focus is on quality products that work, save time and function for all sample types, not just the easy ones. It is MO BIO's aim to make researchers' working lives more productive and efficient, creating time to focus on what is critical, not just in work, but in life.



CONTACT: Heather Martinez, Associate Director of Marketing, MO BIO Laboratories, a QIAGEN company, 760-929-9911

More from Software