Backplane is VITA 41 compliant.
Press Release Summary: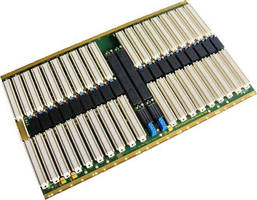 Offering 19 VXS slots and 2 switch slots, VMEbus Switched Serial backplane connects every switch to every VXS connector. Slots include 1 VME64x slot and 18 payload slots which can be connected, with slots J1/J2 being VME64x slots and J0 either VXS or payload slot. Transmission rate is 2.5 GB/sec for every slot simultaneously. Both VITA 41.1, for Infiniband, or VITA 41.2, for rapid I/O, are possible.
---
Original Press Release:

VXS Backplane - VITA 41 Compliant



New VXS backplane allows high speed transmissions

Hartmann Electronic, the specialist in backplane technology, has introduced a new 21 slot VXS (VMEbus Switched Serial) backplane. The backplane offers 19 VXS slots and 2 Switch slots (VITA 41). Every switch is connected to every VXS connector. The first slot is a VME64x slot, and 18 payload slots can be connected. J1/J2 are VME64x slots, and J0 can be either a VXS or payload slot. The switches are located in the middle, so the high speed lines have a minimum of time difference, with a maximum of 1.8ns Skew. Transmission rate of 2.5GB for every slot in the same time. Both VITA 41.1 (Infiniband) or VITA 41.2 (Rapid I/O) are possible, with the only difference being the coding key.

The Hartmann Electronic VXS backplane is available immediately. For more information: http://hael.de/en/products/

About Hartmann Electronic: Hartmann Electronic is a global manufacturer of backplanes and microcomputer system platforms supporting Open Architecture bus systems, including CompactPCI, cPCIx, 2.16, H.110, PXI, VME/64/64x, VME320, VPX, VXI, and VPX. Hartmann Electronic offers the broadest range of off-the-shelf product selections in the industry.

For more information contact:

Scott Puderbaugh

National Sales Manager

P: 937-324-4422

F: 937-324-2425

E: scott.puderbaugh@hartmann-electronic.com

Company Information:

Hartmann Electronic

300 E Auburn Avenue

Springfield, OH 45505

937-324-4422

www.hartmann-electronic.com

More from Adhesives & Sealants