Backplane Connector suits high-speed systems.
Press Release Summary: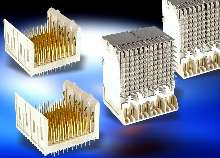 Series Tempus(TM)-HS 4000 features 0.5 mm plated through-hole, resulting in less capacitance, delivering less than 5% crosstalk above 5 Gbyte/s and differential insertion loss under 1 dB at 5 Gbyte/s. The 2 mm connector is drop-in replacement for FCI's HS4000 products. Short signal tuning forks reduce electrical length of overall mating interface. Connector is capable of 10 Gbyte/s signals in large backplane environment.
---
Original Press Release:

ITT INDUSTRIES, CANNON DELIVERS HS4000 2MM BACKPLANE CONNECTOR


SANTA ANA, CA (November 20, 2003) - New from ITT Industries, Cannon. The Tempus(TM)-HS 4000 2mm backplane connector delivers increased bandwidth and reduced crosstalk. Designed for high-speed systems such as Serial-ATAII, the connector series is produced under license from FCI, and is the only second-source, drop-in replacement for FCI's HS4000 products.

Tempus-HS 4000 series backplane connectors feature a smaller 0.5mm plated through hole, resulting in less capacitance, delivering less than 5% crosstalk above 5Gb/s and differential insertion loss is under 1dB at 5Gb/s. The series also benefits from a differentially-tuned leadframe with wider grounds for better signal isolation and less reflected signal. Shorter signal tuning forks reduce the electrical length of the overall mating interface, further contributing to increased electrical performance.

"Today's telecom and datacom designs are being developed with signal speeds that require connectors to be considered part of the transmission line structure," comments product manager, Dennis Upperman. "Only a few years ago the connector was small enough in comparison to the signal length that it could be considered a DC connection. Now device signals are fast enough that the entire transition length can be shorter than the connector. Systems such as Serial ATAII are now being designed that utilize the Tempus-HS 4000 series as well as other systems that are designed to carry signals beyond 5Gb/s."

The Tempus 4000-series connector is designed as a 100 ohm differential pair signal transmission line environment. The 4000-series has been demonstrated capable of 10Gb/s signals in a large backplane environment.

HS 4000 connectors are end-to-end stackable with other Tempus products and are intermateable with Tempus HS 1000/2000 products, providing cost effective flexibility and scalability. Devices are available in 8 and 5-row standard and wide body versions. Durability is 200 cycles. Depending on the configuration and plating specified, prices range from $0.16 to $0.20 per mated line with typical lead-times from 6-8 weeks.

ABOUT ITT INDUSTRIES, CANNON

ITT Industries, Cannon (www.ittcannon.com) is an international supplier of connectors, interconnects, cable assemblies, switches, dome arrays, keypads, multi-function grips, panel switch assemblies, I/O card kits, smart card systems and LAN components, as well as a provider of high-speed/high-bandwidth network systems and services.

ITT Industries supplies advanced technology products and services in key markets including: electronic interconnects and switches; defense communication, opto-electronics, information technology and services; fluid and water management and other specialty products. Headquartered in White Plains, NY, the company generated $4.99 billion in 2002 sales. In addition to the New York Stock Exchange, ITT Industries stock is traded on the Midwest, Pacific, London, Paris and Frankfurt exchanges.

More from Communication Systems & Equipment