Backpack Carrier lightens tactical, ballistic gear load.
Press Release Summary: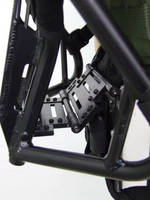 Used for carrying up to 320 lb backpacks over tactical and ballistic gear, carrier has flexible hinge that lets frame float and expand over ballistic vest. This transfers weight of load from shoulders directly to waist belt and also allows soldier free use of his/her arms and hands. While strapping system facilitates adjustment to soldier height and body build, design maintains proper weight distribution on soldier's body during various movements.
---
Original Press Release:

Eurosatory 2012: Marom Dolphin Launches Advanced System for Carrying Soldiers' Heavy-Load Backpacks Over Tactical and Ballistic Gear



The lightweight, flexible system helps soldiers comfortably accomplish their missions, increasing their operational capabilities

Afula, Israel - Marom Dolphin - a leader in the field of tactical textile solutions and personal military supplies for armed forces, police units, law enforcement, security services, and civilians - launches its advanced system for carrying heavy-load backpacks over tactical and ballistic gear at Eurosatory, June 11-15, Paris, Israel Pavilion, Hall 6, at Booth # CD 709. Lightweight and flexible, the system helps soldiers to comfortably accomplish their missions, increasing their operational capabilities.

Made of lightweight, yet exceptionally strong materials, Marom Dolphin's new system deals with one of the most critical issues in infantry combat - carrying heavy loads. The system's uniqueness lies in a flexible hinge that allows the carrier's frame to float and expand over the ballistic vest, and thus transfer the weight of the load from the shoulders directly to the waist belt. The innovative solution allows the soldier free use of his arms and hands by reducing the pressure on his shoulders and arms.

The carrier enables the carrying of heavy weight on top of any tactical vest - from hard ballistic panels to a full water bladder, and more. Proper weight distribution on the body of the soldier is maintained during a wide variety of movements (standing, running, lying down, kneeling), enhancing operational capabilities.

Marom Dolphin's carrier is equipped with a unique strapping system which allows for quick and easy adjustment to the soldier's height and body build. This adjustment is long-lasting and will remain in place, even during extended marches. The carrier can be loaded and used with up to 320 lbs. of equipment - which will be carried easily and comfortably. The frame can be used either as a general purpose frame with straps for quick connection of any kind of equipment - or integrated into any designated carrier system, with full compatibility.

According to Jonathan Shtriker, Senior Designer and Chief of R&D Department at Marom Dolphin "The modern soldier carries with him a variety of equipment. Despite attempts to minimize and reduce the weight of these items, the weight of the load that soldiers must carry on their back is, in fact, increasing. This becomes a very serious problem when the excessive weight affects the soldier's ability to perform and to accomplish his mission. This is the problem that we are striving to solve with the new system that we are introducing at Eurosatory - a system whose most important function is to enable soldiers to properly perform their missions. We developed the carrier in cooperation with the Israel Defense Forces (IDF), and already see interest being expressed among additional armed forces around the world."

About Marom Dolphin
Marom Dolphin Ltd., founded in 1993, is a leading provider of a broad range of military and security textile products that deliver a high level of protection and ergonomic convenience in the field. Customers include military, paramilitary, law enforcement and security organization across the globe. The company is the main authorized supplier of tactical and bulletproof vests to the Israeli military and to the Israeli Ministry of Defense (IMoD).

The company's line of products is recognized worldwide for its high quality and durability. They are manufactured and tested in accordance with the Quality Assurance standards of global military forces, as well as in strict adherence to ISO 9002 Standards.

Dedicated to service excellence, Marom Dolphin offers highly flexible production schedules, 24-hour worldwide delivery services, and optional on-site training.

Contact Details:
Mrs. Sharon Kalir
Import/Export Manager
Marom Dolphin Ltd.
Phone:'+972-4-6400797
Fax: +972-4-6403074
Mobile: +972-54-7871404

More from Electronic Components & Devices