Backlight LEDs feature reflector diffuser technology.
Press Release Summary: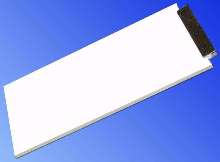 Backlight panels, available in various sizes, employ reflector and diffuser technologies that allow for creation of bright light from single panel. Available types include Surface View/Array, Side View Element, Side View Chip-On-Board, and Side View Lamp. Designed to meet LCD size requirements, backlights deliver uniform light intensity and are available in white, blue, green, yellow, amber, and red. Multi-color panels are also available.
---
Original Press Release:

Marktech Now Offers New Backlight LED Series Featuring the Latest in Reflector Diffuser Technology


Menands, New York: Marktech Optoelectronics today announced the availability of its new series of Backlight panels. Available in a variety of colors and sizes these backlight panels are ideal for a wide range of applications such as LCD backlighting, large area illumination, mobile and battery operated devices, sign, transparency and negative illumination.

Until now backlighting options have been limited. Electro Luminescent (EL) Technology had drawbacks with limited life and the need for a voltage inverter, Cold Cathode Fluorescent Lamp (CCFL) again suffered from limited life and the needed for an inverter, early attempts at white LED backlights relied on large multi-chip clusters which made them expensive and current hungry.

This new series of backlights with their combination of reflector and diffuser technologies has allowed the creation of a usable size of bright light from single panel illumination.

Features

· Wide Range of Sizes Available
· Four Available Types - Surface View/Array Type, Side View Element, Side View Chip-On-Board, and Side View Lamp Type
· Slim Profile and Uniform Light Intensity
· Low Power Consumption and Long Life
· Low Current and Low Voltage Operation
· Backlights are designed to meet LCD size requirements
· Single Colors available - White, Blue, Green, Yellow, Amber & Red
· Multi color panels are also available upon request.

Pricing and Availability
Volume pricing for the Marktech Backlight panels range from $.60 to $3.00 depending on size and color and are currently available through Marktech. For more information on these or any of our other LED or LED Driver products contact Marktech Optoelectronics at 120 Broadway, Menands, NY 12204, Phone: (800) 984-5337, FAX: (518) 432-7454, email: info@marktechopto.com. Website: www.marktechopto.com.

Marktech Optoelectronics: Marktech has been an industry leader in the application and design of LEDs for over 18 years. Cotco Luminant Devices, Ltd. has chosen Marktech to handle all North American technical sales and marketing for their High Performance LED Line. In addition to their Cotco line of LEDs, Marktech also offers Toshiba Tosbright® LEDs and Toshiba Constant Current LED Drivers along with a wide range of standard Discrete LEDs, Surface Mounts, Displays and Photo Sensors.

More from Test & Measurement