Back Supports incorporate several ergonomic features.
Press Release Summary: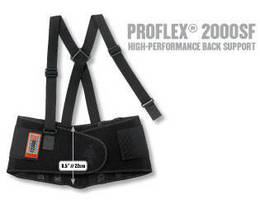 ProFlex® Back Support Series supports workers with active jobs involving lifting-related risk. Features include V-shaped design (2000SF); Power Panel Positioners™ that keep back support panels in place to foster accessibility; adjustable, detachable suspenders, and non-conductive Sticky Fingers® Stays that keep supports comfortably in place and prevent ride up (2000SF, 1100SF). Spandex construction provides rugged breathability, while elastic offers warmth and support.
---
Original Press Release:

Ergodyne Announces Refresh of Original Back Support Line



St. Paul, Minn. – Ergodyne announced today a refresh of the products that started it all, the ProFlex® Back Support Series. Back supports are as essential for workers today as they were thirty years ago when the first workplace back support was invented and patented by Ergodyne. This updated line delivers all the trusted comfort and support workers have depended on since 1983, but in a revitalized 21st century design. The complete new look includes:



Heat-stamped Ergodyne logo on the hook & loop closure

Visible, branded model number, and

Contrasting deco-stitching



"The back was the body part most frequently affected in injuries involving days away from work in 2009, accounting for more than 20% of the nearly one million injuries in private industry [1]," said Andy Olson, senior product manager. "To address this issue, Ergodyne continues to recommend back support use as part of a comprehensive approach to worker safety."



Proper back support use provides lower back and abdominal support; promotes proper posture; and serves as a reminder to the worker that they are about to lift. Back supports do not make workers stronger nor do they cure or eliminate an existing back injury; however, use of a back support is a helpful tool in the fight to control back injuries.



"Ergonomics are in our name and in everything we do. It's where we grew up and where we still work diligently to make the workplace a betterplace every day," said Tom Votel, president and CEO. "We've got your back. Literally. And we don't stop there; we're also dedicated to training and educating the workforce. Look for lots more of it in 2013 and beyond."



Ideal for workers with active jobs where eliminating lifting related risk is difficult or impossible, the redesigned ProFlex® Back Support Series is rolling out now and will be available at all Ergodyne distributors. Additionally, new training materials are now available including a White Paper addressing Back Injuries in the workplace and a Back Support // Lifting Guide demonstrating proper fit and technique. For more information, visit www.ergodyne.com or call 800.225.8238 // +1 651.642.9889.



[1] National Safety Council. (2012). Injury Facts®, 2012 Edition. Itasca, IL: Author. Library of Congress Catalog Card Number: 99-74142



Key Features



Unique V-shaped design (2000SF)

Innovative Power Panel Positioners™ keep back support panels in place so they are accessible when needed

Patented, non-conductive Sticky Fingers® Stays keep supports comfortably in place and prevent riding up. (2000SF; 1100SF)

Choose spandex construction for rugged breathability or warmth and support of high-quality elastic

Adjustable, detachable suspenders (most models)

Stretchable, zig-zag stitch binding to work with the body, not against it



About Ergodyne



Since 1983, Ergodyne has pioneered the development of products that Make The Workplace A Betterplace™. What started with just one product has grown into a line of top flight, battle-tested, Tenacious Work Gear®; all precision crafted to manage the elements, improve productivity and provide protection for workers on jobsites the world over.



The current lineup is extensive and constantly growing: ProFlex® Hand Protection, ProFlex® Knee Pads, ProFlex® Supports, Trex™ Footwear Accessories, Chill-Its® Cooling Products, N-Ferno® Warming Products, GloWear® Hi-Vis Apparel, Squids® Lanyards, Arsenal® Equipment Storage Systems, CORE Performance Work Wear®, SHAX® Portable Work Shelters, and Skullerz® Head Protection.



For more information on Ergodyne, visit www.ergodyne.com or call 800.225.8238 / +1 651.642.9889

More from Architectural & Civil Engineering Products