Back Pressure Regulator has blockage-resistant design.
Press Release Summary: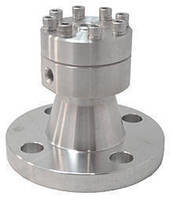 Available in pressure ranges up to 5,000 psi (standard trim) and 10,000 psi (high-pressure trim), BR series does not require heating to maintain pressure control. All-mechanical design eliminates ability of oil and ice to cling to internal passages of regulator, and control valve is pilot operated. Pilot pressure can be controlled using manually operated knob adjusted pressure regulator or electronic pressure regulator. Design scales and is available with port sizes from ¼–¾ in.
---
Original Press Release:

Equilibar Introduces Blockage Resistant Regulator for Supercritical Carbon Dioxide



New Technology Addresses Icing and Clogging



Fletcher, NC—Equilibar has launched a new BR series of back pressure regulators featuring a blockage resistant design geared toward supercritical CO2 extraction as well as other processes in which clogging, blocking or freezing are potential problems.



The BR regulator features technology that relies on internal passages to eliminate convergence points for the build-up of ice and high viscosity oils.  This novel design allows the BR to precisely regulate back pressure during processes involving gas expansion.



Historically, the rapid cooling experienced during gas expansion created multiple control problems for traditionally designed regulators.  Entrained liquids froze and blocked internal passages.  At reduced temperatures, oils became thicker and inhibited pressure regulating performance.    This performance drop was particularly problematic with carbon dioxide and other gases with high Joules Thomson effects.



Until now, the solution to these problems was to wrap the regulating valve body in a heat source such as a heated oil bath or electrical heat tape.  Unfortunately, the heat used in this cumbersome solution could damage sensitive oils entrained in the media.  Moreover, in production scale systems with high flow rates, it was often difficult to add enough heat to the precise point where the gas expansion occurred in the valve.



Equilibar's new BR back pressure regulator does not require heating to maintain pressure control.  It uses a patent pending all-mechanical design that eliminates the ability of oil and ice to cling to the internal passages of the regulator.  The blockage resistant regulator allows the ice to shed easily and then pass into the larger downstream system piping where it can be warmed.



While the BR is well suited for any system involving ice build-up, it is particularly effective when operating as the pressure let-down valve in a supercritical carbon dioxide (SCO2) extraction system.  In a supercritical extraction application, the blockage resistant regulator accurately regulates pressure in the high pressure extraction vessel while letting excess SCO2 expand to a lower pressure in the extraction vessel.



Like other Equilibar back pressure regulators, the BR control valve is pilot operated.  The pilot pressure can be controlled using a manually operated knob adjusted pressure regulator, which can be remotely mounted for easier access.  The pilot to the BR may also be set with an electronic pressure regulator, effectively making the BR an electronically controlled back pressure regulator.



The BR series back pressure control valve is available in pressure ranges up to 5000psi in standard trim as well as pressure ranges up to 10,000psi in high pressure trim.  The BR regulator design scales easily and is currently available with port sizes from ¼ inch to ¾ inch.



The body of the BR regulator is machined from premium bar stock stainless steel 316/316L dual certified material.  Wetted parts include a rugged diaphragm membrane and static seal O-rings.  The diaphragm may be manufactured from PEEK, polyimide (Kapton), PCTFE, or PTFE.  O-ring choices include Buna-N, Viton, EPDM, and DuPont Kalrez.  It typically ships in three to five days ARO.  Custom models  manufactured to specifications take four weeks.



Located in the Blue Ridge Mountains of North Carolina, Equilibar Precision Pressure Control provides custom solutions for the most demanding pressure control applications worldwide.  Equilibar engineers focus on rapid customer response, technical excellence and a creative, collaborative approach.



For press release information, contact

[email protected]



For content information, contact David Reed at

[email protected]

or 828-650-6590.