Hydraulic / Pneumatic / Radial Shaft Seals
Back Potted Seals feature fully harnessed design.
Press Release Summary: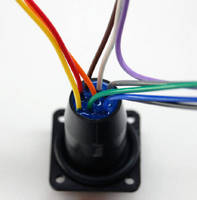 Offering alternative to ceramic or glass seals, Back Potted Epoxy Hermetic Seals provide pressure and vacuum sealing solutions that can be customized to meet user needs. Epoxy material withstands pressure up to 15,000 psi and temperatures from cryogenic to over 350°F. Variety of plastic and metal connectors are available, ranging from jam-nut and O-ring to wall mount and radial O-ring. Some applications include lasers, sealed electronic cavities, semiconductor fabrication, and HVAC compressors.
---
Original Press Release:
Douglas Electrical Components Solution Offers Fully Harnessed Back Potted Seals
Back potted epoxy hermetic seals provide a pressure/vacuum sealing solution that is fast, flexible, reliable and low-cost RANDOLPH, N.J., -- Douglas Electrical Components (DECo) (www.douglaselectrical.com) has developed back potted epoxy hermetic seals as fast, flexible, reliable and low-cost alternatives to expensive standard ceramic or glass seals. The back potted epoxy seals provide a fully harnessed pressure and vacuum sealing solution that can be customized to meet customer needs. DECo can provide fully harnessed back potting solutions that avoid some of the drawbacks associated with generic glass or ceramic connectors, which traditionally come supplied with only solder cups or PCB tails and create potential points of failure. Without a wire harness, these connectors also need additional assembly work, and potential investment in tooling, training, quality control and testing. With a nimble solution not limited by months of turnaround time, engineers are able to respond more quickly to changes in design. "We engineered our back potting solution to allow us to use common connector and wire harness materials and our own epoxy material, providing the customer with a totally customized and prewired solution in weeks instead of months," said Ed Douglas, president of Douglas Electrical Components. "At DECo, we recognize that connectors should be seamlessly integrated into a project rather than cause for costly delays." Design engineers can specify from a range of commonly available plastic and metal connectors, from jam-nut and o-ring to wall mount, radial o-ring and others including the accommodation of fiber optic connectors and cables. Today's range of high-performance epoxies has greatly extended the application range of this versatile hermetic sealing option; the DECo epoxy material can withstand pressure up to 15,000 PSI and temperatures ranging from cryogenic to over 350 F. Current application areas for back potted seals include: lasers, sealed electronic cavities, semiconductor fabrication, HVAC compressors, magnetic bearing enclosures, electrical switch gear, X-ray machines and military applications. For more information, visit www.douglaselectrical.com. For sales and marketing information, contact Cindi Telep, director of customer relations, DECo, by phone at (973) 627 8230, or by e-mail at ctelep@douglaselectrical.com. About Douglas Electrical Components
Founded in 1945, Douglas Electrical Components, Inc. (DECo) is a third generation, family-owned company that pioneered the development and practical application of epoxy technology to electrical wire feedthroughs. DECo offers proven solutions and works with customers to develop high quality products for their conductor sealing needs. DECo is an ISO 9001 registered manufacturer of UL- approved electrical and fiber optic feedthroughs, hermetically sealed connectors and cables, explosion proof wire assemblies and turnkey subassemblies for semiconductor manufacturing equipment. Major markets served include automotive, magnetic bearing, power generation and distribution, semiconductor processing, space simulation, military, alternative energy, air conditioning and refrigeration, X-ray, explosion- proof, oil and gas exploration, and glovebox. Web Site: www.douglaselectrical.com
More from Sensors, Monitors & Transducers