Back Flip FPC Connector has space-conserving design.
Press Release Summary: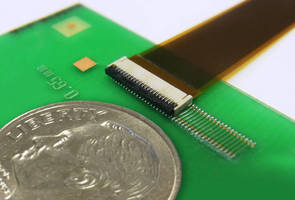 Promoting design flexibility for high-speed applications, FH58 flexible printed circuit (FPC) connectors are available in 25, 31, 41 and 51 positions and support USB 3.0, Embedded DisplayPort v1.3, and MIPI D-PHY v1.1 standards. Back flip style actuator utilizes dual-sided FPC, and design results in PCB space conservation as well as optimized impedance characteristics and transmission speed. Along with metal lock mechanism, features include 0.2 mm pitch, 3.1 mm mounted depth, and 0.9 mm height.
---
Original Press Release:

Space-Saving Back Flip FPC Connector from Hirose Offers Design Flexibility for High-Speed Applications



DOWNERS GROVE, ILLINOIS -- Hirose, a leader in the design and manufacture of innovative connector solutions, has launched a compact flexible printed circuit (FPC) connector that supports USB 3.0, Embedded DisplayPort ver1.3 and MIPI D-PHY ver1.1 standards. The FH58 family of FPC connectors features a back flip style actuator that utilizes a dual-sided FPC. This unique design offers many benefits including PCB space-savings, excellent impedance characteristics, and high-speed transmission. The back flip style actuator and dual-sided contact design also provide high-retention forces and reliability required in a wide range of consumer, medical, point-of-sale and other portable electronic applications.



The compact FH58 Series FPC connectors have a 0.2mm pitch, mounted depth of 3.1mm, and a height of 0.9mm. Combining small size and lightweight - the FH58 Series weighs only 0.046g - makes the FPC connector ideal for the growing wearable electronics market.



The FPC connectors have a user-friendly design, which includes wide tapers providing smooth FPC insertion. The FH58 Series also incorporates a metal lock mechanism, which allows for horizontal FPC insertion/withdrawal, and produces a clear tactile click that insures complete insertion. The FPC tab lock firmly holds the FPC in place until the actuator is locked.



The dual-sided contact design employs a bottom contact spring to provide high-reliability and signal continuity. This dual contact construction, along with the retention spring, delivers a retention force of 15.0N for the top contact and 14.5N for the bottom contact.



"Hirose's unique back flip and proprietary contact design produces high-FPC retention forces even in low pin-count connectors. The FH58 Series delivers up to 2.5 times more FPC retention force than similar products currently on the market," said Rick van Weezel, Vice President of Sales & Marketing at Hirose Electric USA.



The FH58 Series is available in 25, 31, 41 and 51 positions. The connector meets halogen-free requirements and is RoHS compliant.



The high-speed FH58 Series is well suited for portable electronics that require high-speed transmission, including smart phones, cameras & video recorders, notebooks & tablets, DVD & Blu-ray players, portable music players, handheld gaming systems, and medical devices.



For additional information about the FH58 Series FPC connectors visit http://www.hirose.com/product/en/products/FH58



For additional information about Hirose please go to www.hirose.com/us



ABOUT HIROSE ELECTRIC

Hirose Electric Co., Ltd. is a leading global supplier of innovative interconnects, with sales of over $1 billion to customers worldwide. Hirose employs advanced engineering services, superior customer support and worldwide manufacturing capabilities to provide value-based connector solutions for various industries including: industrial, telecommunication, consumer electronics, computer and automotive. More information can be found on Hirose Electric's corporate website at www.hirose.com.

More from Material Handling & Storage