B&R Packaging Automation Solutions Coming to PACK EXPO 2013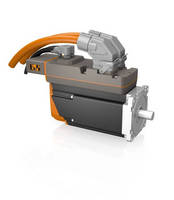 B&R Industrial Automation will exhibit its innovative packaging solutions from September 23-25 at PACK EXPO in Las Vegas, where over 26,000 packaging and processing manufacturing professionals will come together. B&R specializes in standards-based, scalable and modular control systems integrating logic, motion, robotics, human-machine interface (HMI), safety, I/O and data acquisition in a unified software development environment. These automation solutions and more will be featured at the B&R booth# 5623 in the South hall.



Innovation Highlights

Innovations that B&R will showcase include the new, powerful industrial PC that uses the latest third generation Intel® Core™ i technology - the Automation PC 910, a multi-touch panel that has the form factor of an oversized iPad®, and also the latest integrated motor drive featuring flexible mounting and cabling options, onboard I/O and advanced safe motion functions- the ACOPOSmotor.



PACK EXPO attendees can also discover the latest on Automation Studio 4 - the newest generation of B&R's development environment that keeps development costs low and time to market short, despite the ever-increasing complexity of automation products.



POWERLINK, the deterministic real-time protocol for standard Ethernet, will also be presented in the B&R booth. This open source Ethernet protocol can address both data and control needs on a single wire, while reducing design costs, minimizing system jitter, and achieving maximum system performance.



In-booth Gaming with ROLLON

B&R's booth will feature a multi-axis ActuatorLine™ demonstration unit from the linear technology manufacturer ROLLON. The unit is a 5 actuator - 3 axis of motion infrared target practice game that is driven by B&R controls and PACK EXPO attendees will be able to stop by and test their shooting skills on the demo.



Cognex® Vision Demo with POWERLINK

A demonstration unit featuring the Cognex® In-Sight® 7000 series vision system will be showcased at the B&R booth as well. The demo is a complete solution that communicates via POWERLINK and incorporates visualization and control technology for high-speed and high-precision product monitoring in production line operation.



Show Floor Applications

In addition to the B&R products featured at its own booth, several North American and international machine builders at the show will exhibit packaging machines using B&R technology. The machines will include the full range of primary, secondary and end-of-line packaging processes.



PACK Solutions Challenge

For the third year in a row, B&R Industrial Automation's Packaging Solutions Group is sponsoring the student contest at PACK EXPO, now officially the Pack Solutions Challenge. Some of the brightest university students looking to pursue careers in packaging will be participating. This year's challenge is to recommend a packaging solution that provides an upgraded clean, accurate, drip-free filling system for mouthwash packaging that can handle the rigorous changeover demands of a private-label environment. Show attendees can view the students' recommendations and vote for their favorite at the Education & Workforce Development Pavilion in the Upper South hall.



B&R company profile

B&R is the world's largest and most successful private company in the area of automation equipment manufacturing. The motto "Perfection in Automation" has provided the foundation for the company since B&R was founded in 1979. Today, B&R employs 2,400 employees worldwide and has an exceptional global presence with 168 sales offices in 68 countries.



B&R Industrial Automation, Inc. North America, based in Atlanta, GA, has been working closely with its customers since 1987. Since then, B&R North America has continuously grown as a sales and support organization through both direct sales offices and B&R's unique Automation Partner distribution network. Today, B&R North America has a network of more than 24 offices throughout the USA and Canada and is there for its customers locally.

More from Printing & Duplicating Equipment