B&K Precision Upgrades Handheld LCR Meters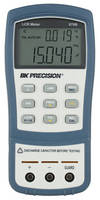 Two New LCR Meters Raise the Level of Performance

YORBA LINDA, CA - B&K Precision has enhanced two of its handheld LCR meters. Models 878B and 879B add increased and improved features such as wider measurement ranges as well as higher accuracy and speed, offering more precise and reliable measurements of inductance, capacitance, and resistance. Models 878B and 879B-priced at $249, and $299, respectively-provide these necessary features including new capabilities not previously available in handheld LCR meters.

Updates for Models 878B and 879B include greater flexibility with a variety of measurement capabilities: 0.5% accuracy, wide frequency and voltage test ranges, and three tolerance modes with visible or audible alerts for batch component sorting. Both units can measure D (dissipation), Q (quality factor) and transfer all measurement results to a PC via USB interface using the provided logging software. Alternatively, users could write a custom program and control the meters remotely via SCPI commands. With their 40,000-count plus 10,000-count dual display, these improved LCR meters rate as the first meters in this price category to offer such high-resolution performance displays.

New and unique to Model 879B is the inclusion of an ESR (equivalent series resistance) function to measure and rate the true quality of a capacitor, and calculation of impedance (Z) and Theta-features usually reserved for bench top LCR units.

The unique feature sets of Models 878B and 879B make these LCR meters particularly suited for passive component testing, electronic assembly, or quality control.

Available for immediate delivery, models 878B and 879B are competitively priced at $249 and $299, respectively. Both models are covered by three-year warranties. Visit www.bkprecision.com/ for detailed data sheets, additional specs or for more information on where to purchase these LCR meters.

About B&K Precision

For more than 50 years, B&K Precision Corporation has been building a reputation for excellence in the design and manufacture of reliable and cost-effective test and measurement instruments. The company's products are used in a wide range of applications including design, research and development, production line testing, industrial maintenance, and electronic field service. B&K Precision test and measurement instruments are standard equipment in a large number of universities and technical schools which train future engineers and technicians. B&K Precision was founded in 1951 and is headquartered in Yorba Linda, California.