Rubber / Foam Cutters and Cutting Machinery
AZTC 20 Thermocutter Hot Knife Cutter with Blade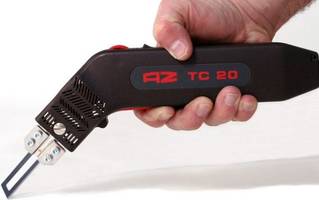 Our Compact AZTC 20 Thermocutter Hot Knife Cutter with Blade. The handheld AZTC20 Thermocutter is compact and easy to use for cutting plastics, fabrics, polystyrene, rubber and other materials. It has adjustable power regulation, rapid blade heat up (with overheating protection), easy blade change functionality, LED function control, and more. A variety of blades are available for different applications. The electronics eliminate the need for the heavy transformers, bringing the tool's total weight to under 12 ounces. Without the need for a transformer, the handle will no longer overheat in the user's hand.
Blades heat instantly from 0 - 1050 degrees and temperatures are easily adjusted by using the convenient thumb wheel. Dual settings allow you to use the standard-sized blades or the very long and/or thick blades once only used with the model Zetz 24 Thermocutter. Easy operation combined with rapid blade heating make this one of the best and easiest to use on the market.
As an independent distributor of Plastic Working equipment and Climate Monitoring Instruments, you can rest assured that you will receive unbiased, honest advice from our technical staff about which products will best fill your needs. Request a free copy of our Plastic Working catalog (click here) or visit our (website) to see a digital version of the catalog.
Contact:
Abbeon Cal Inc.
1363 Donlon St., Unit 1
Ventura, CA 93003
[email protected]