AZEK® Deck is resistant to mold and mildew damage.
Press Release Summary: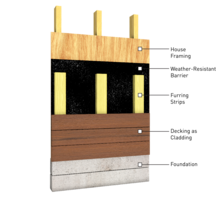 AZEK® Deck features wood-like appearance and is stain, scratch and insect resistant. Product uses Alloy Armour Technology™ and eliminates the need for painting or sealing for protection. Deck will not splinter, rot or warp and is used as a cladding rain screen.
---
Original Press Release:
AZEK® Building Products Announces a New Application of its Decking as Cladding for Ultimate Curb Appeal
Premium Building Products Brand Launches New Residential Home Exterior Design Option
As more homeowners choose wood alternatives when building their homes, AZEK® Building Products is seeing an increase in Americans embracing technologically advanced decking. To capitalize on this trend, AZEK has announced a new application of its decking as cladding rain screen for the ultimate curb appeal. AZEK decking as cladding is showcased in AZEK Building Products' new landing page, which can be found at AZEK.com/cladding.
AZEK® Deck provides a myriad of benefits for homeowners to enjoy. Each collection features a natural, wood-like aesthetic and is resistant to mold, mildew and moisture damage. AZEK also won't splinter, rot or warp. Plus, its stain, scratch and insect resistance makes it a perfect, low-maintenance cladding alternative.
AZEK decking as cladding is also a long-lasting alternative because it does not require painting or sealing for protection. AZEK is scientifically engineered to last beautifully because it is protected with Alloy Armour Technology™, with an industry-best, 30-year Limited Fade & Stain Warranty. The durability of this advanced polymer technology will add brilliance to any home.
"There's a very strong exterior design trend of architects and homeowners incorporating wood planks as accent walls on homes to add a warm visual," said Patrick Barnds, General Manager of Decking at AZEK Building Products. "It's really a natural progression for us to make our premium decking available as cladding. It's the same beautiful look as exotic woods such as Ipe and Mahogany at a very attractive price. And, with our advanced technology, the product will stay beautiful for decades to come."
AZEK is the first leading alternative decking manufacturer to be issued a code compliance research report for using its products in residential cladding applications. That third-party research report provides builders, architects and building code officials with confidence that AZEK Deck in its Vintage, Arbor and Harvest Collections® are quality products. Each has gone through rigorous testing to meet the necessary requirements for cladding applications.
"Since AZEK has three decking collections in over a dozen colors, homeowners are sure to find a solution that allows them to upgrade their current exteriors," said Barnds. "With no routine painting or sealing needed, they will love AZEK decking as cladding just as much as they enjoy AZEK Deck in their backyards."
About AZEK® Building Products:
AZEK Building Products is a leader in the development of premium, low maintenance exterior building products. Available to a worldwide audience, its product lines span AZEK Trim, Deck, Rail, Moulding, Porch and Pavers as well as capped wood composite Decking and Railing under the TimberTech brand. Both brands, synonymous with quality, style and innovation, are made in America and lead their market areas by continually reinventing product lines and redefining product categories. For more information about AZEK, visit www.azek.com. For more information on TimberTech, visit www.timbertech.com or call 1-877-ASK AZEK.
More from Electronic Components & Devices