AZEK® Building Products' Impression Rail Featured as Top 100 Products for 2018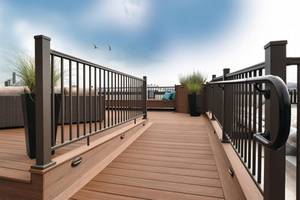 SKOKIE, Ill., Aug. 21, 2018 /PRNewswire/ -- Professional Remodeler magazine has named AZEK's Impression Rail to its Top 100 Products for 2018. This highly competitive list features readers' most clicked-on and requested products from the past year. Impression Rail, a powder-coated aluminum railing system with the look of wrought iron, recently added Bronze to its color palette.
Unlike most awards programs, there are no formal entries required for Pro Remodeler's Top 100 nor is there a panel of judges. Instead, the outlet tallies up reader engagement for all products featured in the magazine over the past 12 months. Products with the highest engagements are then sorted into 10 categories for reader convenience.
"We are thrilled to have Impression Rail honored by Professional Remodeler readers as a Top 100 Product," said Rob Cappucci, Director of Product Management for AZEK® Rail. "This recognition sets the stage for our recently introduced Impression Rail Express™, which integrates a new interlocking technology to hide all welds and fasteners and provide clearer sight lines."
Like Impression Rail, Impression Rail Express offers homeowners an aluminum rail option with wrought-iron aesthetics. At the same time, both profiles are engineered for strength and safety for worry free outdoor entertaining. Both railing systems are easy to install with no special tools required.
For more information on Impression Rail and Impression Rail Express visit www.azek.com/products/railing.
About AZEK® Building Products:
AZEK Building Products, a division of The AZEK® Company, is a leader in the development of premium, low-maintenance exterior building products. Available to a worldwide audience, our product lines span AZEK® Deck, Rail, Trim, Moulding, Porch, Pavers, and Adhesives, as well as capped wood composite decking and railing under the TimberTech® name. Both brands, synonymous with quality and innovation and made in America, lead their market areas by continually reinventing product lines and redefining entire product categories. For more information about AZEK, visit www.azek.com. For more information on TimberTech, visit www.timbertech.com.
CONTACT: Maureen Murray, 973-993-1570, Precise2@optonline.net
Related