Axon Features the EZ-100 Standard Format Heat Shrink Sleeve and Tamper Evident Band Applicator at SupplySide West 2014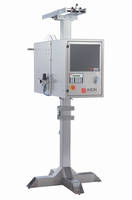 Discover more about this flexible and economical solution

October 8-9 at the Mandalay Bay in Las Vegas –

Axon Booth # 19146.



RALEIGH, North Carolina — Axon, powered by Pro Mach, will have an integrated system for tamper evident band applications on display at SupplySide West 2014, October 8-9 in Las Vegas. The integrated system includes an EZ-100 applicator coupled with a Thermoray heat tunnel. Axon will also be demonstrating the EZ-100's fast changeover capabilities from tamper band to full body sleeve application and the overall performance of EZ-100 applicators in both of these applications. (Axon Booth # 19146)



The EZ-100 comes complete with an electro-pneumatic film control system that enables quick and easy changeover to different container sizes and shapes without expensive tooling changes – an ideal solution for companies with multiple SKUs. The unique guillotine knife system cuts film lengths precisely for a high-quality appearance. The EZ-100 comes standard with an Allen-Bradley PLC and an intuitive operator interface for easy operation.



The Thermoray shrink tunnel utilizes infrared heating elements with an integrated fan to ensure even heat distribution and uniform shrinkage. Robust construction and very simple controls will provide years of trouble-free operation.



Overall, the EZ-100 and Thermoray combination is a solid tamper evident solution within a compact footprint. Both machines have cantilevered frames so they can be easily integrated into existing packaging lines.



Proven design, few moving parts, and stainless steel construction ensure these machines will be running for years to come even in the most challenging environments. 



For more information on this innovative tamper evident band system and for the flexibility of using the EZ-100 for booth full sleeve and tamper band applications, call 1-800-598-8601 and visit www.AxonCorp.com.



About Axon

Axon is a leading manufacturer of fully automated, heat-shrink labeling, tamper-evident banding, and stretch-sleeving equipment. With more than 30 years experience delivering products and solutions that are affordable, reliable, versatile, and easy to use, Axon sets the standard for technology development and customer value within the industries it serves. Visit Axon at www.AxonCorp.com.



About Pro Mach

Pro Mach is a leading provider of integrated packaging and processing products and solutions for food, beverage, consumer goods, pharmaceutical, and other diverse companies. Through its brands, Pro Mach provides product packaging and processing equipment, PMMI certified training, installation, parts, and service in Bottling Capping, Primary Packaging, Flexible Packaging, Material Handling, Identification Tracking, and End-of-Line Packaging.



Pro Mach has a diverse customer base, from Fortune 500 companies to smaller, privately-held businesses worldwide, which depend on reliable, flexible, technologically advanced equipment and integrated solution sets. Pro Mach is headquartered near Cincinnati, Ohio, with manufacturing facilities and offices throughout the United States, Canada, and Europe. For more information about Pro Mach, visit www.ProMachInc.com.







More from Electrical Equipment & Systems