AXIOMTEK's Green 10.4-inch Intel® Atom(TM) N270 Fanless Touch Panel Computer - GOT-5100T-830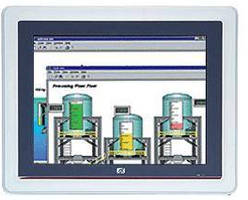 AXIOMTEK's cost-effective GOT-5100T-830 with outstanding appearance adopts an ultra low power Intel® Atom(TM) N270 1.60 GHz processor providing outstanding performance and energy efficiency

Taipei, Taiwan, June 18, 2009- AXIOMTEK introduces its green 10.4" fanless touch panel PC, the GOT-5100T-830, which supports a speedy and energy-efficient 45nm Intel® Atom(TM) N270 1.60 GHz processor with the Mobile Intel® 945GSE Express chipset. The GOT-5100T-830 adopts a 10.4" SVGA TFT LCD with resolution up to 800 x 600 pixels, and features fanless operation and a rugged IP65 dust/waterproof front bezel. Featuring a super slim thickness of 44.6 mm, the touch panel computer is equipped with one mini card for custom system configurations, and also has a CompactFlash(TM) card or a 2.5" HDD for storage capability. The GOT-5100T-830 is an ideal for space-limited applications in kiosk, DSA, factory automation, building automation, and more.

The GOT-5100T-830 is a super slim and super light fanless touch panel computer with thickness of 44.6 mm and weight of 1.6 kg, which make it a good choice for rugged and limited-space environments. With industrial grade front bezel plus aluminum mechanism design, this 10.4-inch fanless HMI can dissipate heat easily and keep the operating system stable and healthy. The GOT-5100T-830 provides a mini card and a built-in WLAN antenna for wireless network connections. By simply plugging in a wireless LAN card, customers can use the tiny panel system in wireless LAN / GPRS / GSM / 3G environments.

"Featuring a super slim thickness of 44.6 mm, the GOT-5100T-830 adopts an ultra low power Intel® Atom(TM) N270 1.60 GHz processor with fanless operation; moreover, it only weight 1.6 kg," said Alex Hsueh, Product Manager of Applied Computing Platforms Business Unit. "The modern industrial-grade front bezel is NEMA 4 / IP65 compliant with the advantages of light weight, high degree of hardness, good heat releasing, and anti-corrosion ability to be designed to work in wide range heavy-duty industrial fields.

The cool GOT-5100T-830 built with low-cost and power-effective in mind also offers excellent vibration resistance up to 2Grms (with CompactFlash(TM)) for stable operations."
The GOT-5100T-830 provides users with many I/O interfaces such as two COM ports, one Gigabit Ethernet, four USB 2.0 ports, one VGA connector, and an audio port. Additionally, it provides a fuse to protect system from being damaged by over-voltage.

For flexible installation, the touch panel computer can be panel-mounted, wall-mounted, stand-mounted, or VESA-mounted. The panel system is compatible with Windows® XP, Windows® CE.NET and Windows® XP Embedded (XPE). This green yet rugged HMI will be available around early July, 2009. For more product information, please visit our global website www.axiomtek.com or contact our sales representative at info@axiomtek.com.tw.

Main Features:


10.4" SVGA (800 x 600) color TFT LCD display

Fanless Intel® Atom(TM) N270 1.60 GHz processor onboard

Ultra slim and light weight design : 44mm thinness & 1.6 kg

One mini card for expansion

Support various mounting ways: Panel/Wall/Stand/VESA (optional)

Over-voltage protection-fuse

About AXIOMTEK CO., LTD.

AXIOMTEK Co., Ltd. is one of the world's leading designers/manufacturers of PC-based industrial computer products. From its roots as a turnkey systems integrator specializing in data acquisition and control systems, AXIOMTEK has mirrored the PC evolution in various industries by shifting its focus toward the design and manufacture of PC-based industrial automation solutions.

AXIOMTEK was established since 1990. The company has 475 employees in headquarters and over 110 employees in subsidiaries including USA, China, Japan, and Europe. The company has appointed more than 60 distributor partners around the globe. AXIOMTEK offers IPC (Industrial PCs), ECP (Embedded Computing Platforms), PPC (Panel PCs), Medical Panel Computers, HMI (Human Machine Interface), DAC (Data Acquisition & Control Cards Solutions), and NA (Network Security Appliances) product lines with more than 400 items.


More from Agricultural & Farming Products