Axial-Piston Pumps suit mobile hydraulic applications.
Press Release Summary: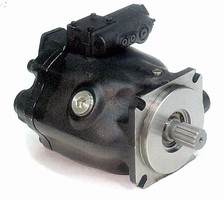 Designed for open circuit applications on mobile equipment, PI series pumps are variable displacement, axial-piston, and medium pressure (280 bar/4,060 psi) pumps that utilize compact, round housing. Three models are available with max displacements of 75, 100, and, 140 cc/rev. They offer choice of SAE and ISO standard mounting flanges and ports, end or side inlet and outlet ports, and case drain ports for horizontal, vertical, or shaft-up mounting.
---
Original Press Release:

Parker-Hannifin Announces Line of Quiet, Compact, Axial-Piston Pumps for Mobile Hydraulic Applications



MARYSVILLE, OH, March 31, 2006 - Parker-Hannifin's Hydraulic Pump Division has announced the availability of a new line of medium pressure (280 bar/4,060 psi), variable displacement, axial-piston pumps intended for open circuit applications on mobile equipment.

The new PI series pumps utilize a compact, round housing that is both smaller and quieter than conventional pump designs with comparable capabilities. Designed for simplified service and high operating efficiency, PI pumps are rated for continuous service at the high drive speeds typical of mobile applications.

The initial PI product offering includes three models with maximum displacements of 75 cc/rev (4.58 in_/rev); 100 cc/rev (6.41 in/rev); and, 140 cc/rev (8.85 in/rev). All three offer a choice of SAE and ISO standard mounting flanges and ports, end or side inlet and outlet ports, and case drain ports for horizontal, vertical, or shaft-up mounting.

Other standard features include elastomer seals that eliminate gaskets and external leakage, tapered-roller shaft bearings, hydrostatic cam bearings, and simple hydraulic controls with "no-leak" adjustments. Optional features such as minimum and maximum displacement adjustments, and case-to-inlet check valves to extend seal life are also available on all PI models.

A variety of control options are also offered on PI pumps:
Pressure Limiter Control - Used to limit maximum system pressure. Full pump displacement is achieved unless the system valve restricts output flow or load pressure reaches the pre-set maximum. Under restricted flow conditions, the pump provides only the flow demanded while maintaining maximum pressure. If the outlet flow is completely blocked the pump destrokes to zero displacement and maintains pressure at the value set by the compensator spring.

Load Sensing and Pressure Limiter Control - Used to match pump flow and pressure to system demands to avoid wasted power. The pump will automatically adjust for
changes in drive speed and load pressure to match output flow to load requirements. Flow rates are constant regardless of shaft speed or load pressure

Pilot Operated Control With ISO 4401 (NG6 Interface) - Used to allow the pump pressure compensator setting to be adjusted from a remote relief valve. If a remote relief valve is used as a pilot for this control, full pump displacement is achieved unless the system valve restricts output flow or load pressure reaches a pre-set maximum.
Under restricted flow conditions, the pump provides only the flow demanded while maintaining pressure at the value pre-set by the compensator control. If the outlet flow is completely blocked the pump destrokes to zero displacement and maintains pressure at the value set by the remote relief valve.

Parker's Hydraulic Pump Division was formed in 2003 when Parker Hannifin acquired Denison Hydraulics. The division is a leading worldwide manufacturer of hydraulic components and systems for earthmoving and construction vehicles; for mining equipment; for pulp and paper, chemical and other processing equipment; for ships and ordnance equipment; and for such in-plant machines as machine tools, plastic molding, die casters, and stamping presses.

Contact:
Douglas Drummond, Parker HPD
Parker Hydraulic Pump Division 14249 Industrial Parkway Marysville, Ohio 43040 1.800.551.5956

More from Mechanical Power Transmission