Axial Piston Pumps suit lower medium-duty applications.
Press Release Summary: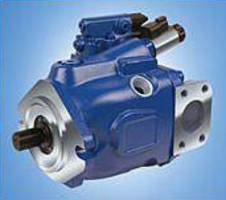 With 210 bar nominal pressure (250 bar max), 53 Series A10VNO28 pump has compact design featuring variable displacement as well as pressure and flow control. Size 85 is also available. With 250 bar nominal pressure (310 bar max), 53 Series A10VO offers range of control functions and comes in nominal size 18. As alternative to differential pressure control (load-sensing), it also offers hydraulic-mechanical power control or electroproportional flow control.
---
Original Press Release:

New Axial Piston Pumps for the Lower Medium-Duty Range



Rexroth's new 53 Series of the A10VO and A10VNO type axial piston pumps offers advantages with regard to function, energy saving and compactness.

Rexroth is presenting its new generation of axial piston pumps for the lower medium-pressure range at Agritechnica 2007. As the successor to the 52 Series, the current 53 Series of the A10VO and A10VNO models for the open circuit offers improvements with regard to function and energy saving - for example when used in the working hydraulics of tractors and agricultural machines. Rexroth has also extended the nominal-size range for the A10VO model to include size 18. The A10VNO model, which is specially tailored for tractor applications, is currently available in the sizes 28 and 85.

A10VNO for agricultural and tractor applications

For the new 53 Series, Rexroth has completely revised the size 28 of the model A10VNO, which is particularly known for use in agricultural and tractor applications. The A10VNO28 pump now has a significantly more compact design when compared with the predecessor model. At 210 bar, its nominal pressure is in the lower medium-duty range (maximum pressure 250 bar). The compact dimensions of the new unit save valuable installation space in the machine and increase the degree of freedom in the overall design. The smaller housing helps to reduce the mass, which in turn results in an increased power density. Energy savings and a reduced fuel consumption are the result.

When compared with fixed pumps, all the nominal sizes of the A10VNO offer the advantage of increased energy efficiency thanks to their variable displacement. With its short control times, the pressure and flow control additionally ensures that the working functions respond very quickly. This results in pleasant and efficient operation of the machine as the basic prerequisite for high performance. A flow rate which meets demand, for example in load-sensing applications, prolongs the service life of the hydraulic fluid and thereby saves costs. This is because the A10VNO variable pump exposes the pressure medium far less frequently to the shear forces of a pressure-relief valve than a comparable fixed pump system.

A versatile range: the A10VO with a new nominal size

A further member of the A10 variable pump family is the A10VO model of the new 53 Series for the medium-duty range. It features a higher pressure range (nominal/peak pressure 250/310 bar) and an extended range of control functions.

Rexroth presented the 53 Series of the A10VO for the first time at bauma 2007. The manufacturer is using the occasion of AGRITECHNICA 2007 to complete this Series with new nominal size 18. The most striking feature after those such as compact design and favorable power-weight ratio is the versatility of the new A10VO Series - not least because of its varied control options. As an alternative to the established differential pressure control (load-sensing), a pump of this class for the first time offers also hydraulic-mechanical power control or electroproportional flow control.

The hydraulic-mechanical power control prevents the combustion engine from overloading and thereby frees the operator from this demanding monitoring function. Thanks to the operating ergonomics improved in this way, the driver can return to concentrating fully on actually controlling the work functions and thereby achieve better work results. Electroproportional flow control - with its operator-controlled flow - ensures load/consumer speed in line with demand. This results in a precise and relaxed operation and high effectiveness on the part of the general machine. In addition, the electronically controlled version of the 53 Series of the A10VO variable pump provides the basis for implementing intelligent, fully electrohydraulic system solutions such as Electrohydraulic Flow Matching (EFM) from Rexroth.

Further options underline the versatility of the A10VO 53 Series such as, for example, optional incorporation of various sensors for function monitoring or optional fixing of minimum displacement at a value above zero (Vgmin limitation).

To support its customers in speeding up the development and design processes, Rexroth provides 3D installation models of the A10VO variable pumps.

Bosch Rexroth AG will present its products at the AGRITECHNICA 2007 in Hall 9, Stand 09F05.

Bosch Rexroth AG is one of the worldwide leading specialists in the field of drive and control technologies. Under the brand name of Rexroth the company supplies over 500,000 customers with tailored solutions for driving, controlling and moving plant and machinery, which are used in industrial and factory automation as well as in mobile applications. Being The Drive & Control Company, Bosch Rexroth develops, produces and sells components and systems in more than 80 countries. In 2006 the company of the Bosch Group achieved sales of approximately 4.9 billion Euro with over 29,800 employees.

For more information please click: www.boschrexroth.com

Reader Inquiries:
Olaf Marshall
Phone: +49 (0) 73 08 - 81 70 - 22 62
Fax: +49 (0) 73 08 - 81 70 - 26 83
E-mail: olaf.marshall@boschrexroth.de
Address: P.O. Box, D-89070 Ulm, Germany
Internet: www.boschrexroth.com/brm

More from Food Processing & Preparation