Axial Piston Pump enhances hydraulic fan controls.
Press Release Summary: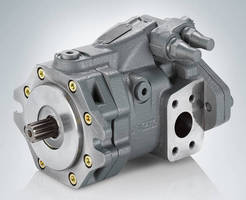 Suited for hydraulic fan controls in mobile machines, V40M-028H displaces up to 28 cm³/rev and is designed for max operating pressure of 380 bar and peak loads of 400 bar. Optional P1R1 electronic pressure controller features, in addition to promoting compliance with Tier 4 Final and Euro 6 standards regarding emissions, continually adjusts pump so fan's cooling output is fine-tuned to machine's engine temperature. Pump can be mounted directly to diesel engine and measures 7.2 x 5.2 in.
---
Original Press Release:

HAWE Develops New Pump Displacements for Hydraulic Fan Controls



CHARLOTTE, N.C.–HAWE Hydraulics is a leading global manufacturer and supplier of sophisticated hydraulic components and controls for the mobile, industrial, and renewable energy markets.



The new axial piston pump, type V40M-028H from HAWE Hydraulics is ideal for hydraulic fan controls in mobile machines. The pump will displace volumes up to 28cm³/rev and is designed for maximum operating pressure of 380 bar and peak loads of 400 bar. The optional P1R1 controller features help the axial piston pump comply with emission stipulations defined by Tier 4 Final and Euro 6 standards. The P1R1, electronic pressure controller continually adjusts the pump so the fan's cooling output is fine-tuned to the temperature of the machine's engine. It increases pressure in the event of power failure, thus protecting the engine against overheating.



Combining the V40M-028H with valves from HAWE's product portfolio enables implementation of more demanding fan control requirements. The pump can be mounted directly to the diesel engine and takes up very little space as it has a width of just 5.2 in. and a length of 7.2 in. Depending on the installation space within the machine and the need for cooling, multiple fans can be deployed independently of each other. The fans can be engaged in standard or reverse operations and run either in sequence or parallel to each other.



Hydraulic fan controls separate the fan and combustion engines' speeds. By continuously adjusting the cooling output, the hydraulic control can also be configured to activate the fan once the machine's engine has reached its operating temperature. In the case of cold external temperatures the fan will not be activated at all; this cuts down, not only fuel consumption, but also the machine's noise emissions.



The V40M-028H is the second model within the axial piston pump series designed for applications with a pressure range up to 350 bar and a volume flow up to 80 l/min. HAWE offers customers efficient and complete solutions that allow this pump to be connected with a number of proportional directional spool valves and controllers - all from HAWE's modular constructed product line.



About HAWE North America:

Known as a leading manufacturer of high quality components, HAWE Hydraulics serves as an ISO 9001:2008 certified international supplier to the mobile, industrial and oilfield market place.



For over 60 years industries have relied on HAWE's dependable German engineering and experience to help them build equipment with robust hydraulic systems. Headquartered in Charlotte, North Carolina with additional offices in Houston, TX and Portland, OR the company offers sales and engineering services that reach Canada and Mexico. HAWE prides itself in upholding world class quality standards and will continue to produce innovative technologies that positively impact the fluid power industry.

More from Sensors, Monitors & Transducers