Axial AC Fan has compact design.
Press Release Summary: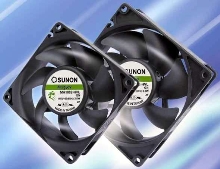 Available in sizes from 60-92 mm with thicknesses from 2.25-3.38 mm, MagLev® AC fan is offered in 4 speeds from 2,900-3,700 rpm with flow output from 39.54-53.71 cfm. It operates at noise levels from 31.6-33.7 dBA typ and is designed to work in temperatures to 70ºC. Impeller design employs Vapo-bearing technology, and fans can be specified with terminals or lead wire. Fans are rated for operation at 115 and 230 Vac, 50-60 Hz, depending on model size.
---
Original Press Release:

Sunon Introduces New MagLev AC Fan Offering High Air-Flow Efficiency, Low Power Consumption for Improved Systems Performance Across Broad Applications Base


Patented design features smaller hub, larger impeller design and improved Thermal Management Characteristics for higher temperature operation, longer life; manufactured in compliance with RoHS Pb-Free materials/processes

Brea, CA, May 26, 2005 - Sunon, Inc., announces a new Series of MagLev® Axial AC Fans capable of improved air-flow and lower power consumption than conventional axial AC fans currently available. The new design is based on the company's widely acclaimed MagLev technology which is credited for its superior performance features such as low noise, high temperature endurance and super long life. Applying this patented technology to the MagLev AC fan, an alternative to use of DC fans is created for improved airflow and lower operating costs in such applications as home appliances, automation control equipment and enclosures, converters, commercial applications such as kiosks, ATM and POS systems, and large lighting displays.

The MagLev AC Fan offers a breath of "fresh air" to designers, providing a compact cooling capability with nearly 50% more air flow efficiency, and 33% lower power consumption than conventional AC fans, including an inherent low-noise operation (31.6-33.7dBA typical).

Available in sizes from 60mm to 92mm in a thin 2.25mm to 3.38mm thickness, these units offer fan sizes up to 33% smaller than conventional AC fans. A key contributor to high-efficiency and high air-flow is a smaller hub and larger impeller design, which also employs Sunon's patented Vapo-bearing technology, resulting in longer service life and higher temperature operation, capable of up to 70ºC.

The MagLev AC fan is rated for operation at 115 and 230VAC at 50 to 60Hz depending on model size, available in four speeds from 2900 to 3700RPM, and flow output from 39.54 to 53.71CFM. Units can be specified with terminals or lead wire. All models are manufactured in compliance with RoHS Pb-Free materials and processes to meet global expectations for environmental responsibility. The MagLev AC fan also features all-plastic manufacture of major items for optimal insulation resistance and electrostatic discharge (ESD) performance.

Gene Miltimore, Marketing Director of Sunon U.S.A., commented, "the MagLev AC fan offers a dynamic solution for many applications where the DC fan or conventional AC fans have been used, with the capability to firmly establish lower cost of ownership." He also stated, "We can also supply custom interconnection and harness assemblies and upgraded units for application-specific needs requiring both high speed or low speed fan operation".

Standard MagLev AC Fan models are priced from $5.75 each in production quantities and will be available from stock through all Sunon Distributors. Custom requirements can be directed to Sunon, Inc. For further information on the new MagLev AC Fan, contact Sunon, Inc., 1075 West Lambert Road, Suite A, Brea, CA 92821. Tel: (714) 255-0208, Fax: (714) 255-0802, e-mail: info@sunon.com, or visit our website at www.sunonusa.com.

About Sunon, Inc.

Sunon, Inc. was established in 1999 as a subsidiary of Sunonwealth Electric Machine Industry Company Ltd., a global manufacturer specializing in the design and development of fans, coolers and blowers. The parent company was founded in 1980 and has since produced more than 300 million cooling fans and motors worldwide through a global network of organized sales channels. Products are manufactured in ISO9001:2000 and ISO4001 certified facilities. Sunon has a portfolio of over 621 patents. The company focuses a significant amount of its resources each year into research and development activities. Among the many innovations resulting from its efforts are Sunon's unique single-phase full wave coil winding design, which allows hub sizes to be reduced significantly. This design extends fan blade size to increase torque, airflow and heat dissipation. Sunon's new innovative Vapo bearing technology and magnetic system design eliminate wobbling, reduce bearing wear, offer exceptionally quiet performance and increase fan life at a cost that is no more than is typical with ordinary fans. Both technologies are patented and include state-of-the-art advances in bearing surface materials and impeller stabilization. The company also manufacturers products in compliance with RoHS Pb-Free materials and processes as a commitment to environmental responsibility. Visit www.sunonusa.com for more details.

U.S. Patents 6,278,248/6,097,122

More from Explosives, Armaments, and Weaponry