Cleaning Compounds and Chemicals
Award-Winning Cleaning System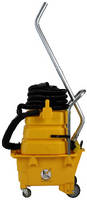 Among the National Restaurant Association's Kitchen Innovation Award recipients this year is Kaivac, Inc., who received the honor in recognition of the new OmniFlex(TM) Dispense-and-Vac System.

The OmniFlex Dispense-and-Vac system dispenses fresh cleaning solution to floors. A brush head is used as needed to loosen soils and contaminants, which are then thoroughly removed using the system's wet/dry vacuum.

According to National Restaurant Association judges, floors are left completely dry after being cleaned using this new technology, making them available for immediate use by employees and customers.

The President of Kaivac, Robert Robinson Sr., who has been in the jansan industry for more than a decade is available to discuss jansan industry issues and trends. He may be reached by calling: 800-287-1136

About Kaivac

Headquartered in Hamilton, OH, Kaivac, Inc. delivers complete science-based cleaning systems designed to produce healthy results and outcomes while raising the value of cleaning operations and the professionalism of the worker. The originator of No-Touch Cleaning®, Kaivac offers an integrated portfolio of environmentally-friendly cleaning products designed to remove the maximum amount of soil and potentially harmful bio-pollutants in the most cost-effective manner possible. For more information, visit www.kaivac.com.

More from Cleaning Products & Equipment