Miscellaneous Cleaning Equipment
Award After Award for the AutoVac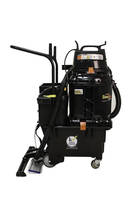 The battery-powered AutoVac floor scrubbing system from Kaivac is racking up award after award.



This floor scrubbing system won the ISSA 2015 Innovation Award; was among the winners of the 2012 National Restaurant Association's Kitchen Innovation Award; and just won the innovation award at the European International Cleaning Show.



So what gives? The key reason the AutoVac is winning so many awards is simple: It's more effective than an auto scrubber at a fraction of the cost. It's hard to beat that.



For more information, visit www.kaivac.com, or call 513-887-4600.



About Kaivac

Headquartered in Hamilton, Ohio, Kaivac Inc. is the originator of the No-Touch Cleaning™ system and manufactures a full line of No-Touch cleaning products aimed at making cleaning processes safer for people and the environment while preserving quality and cost efficiency. For more information on the company and its products, call 800-287-1136 or visit www.kaivac.com.

More from Cleaning Products & Equipment