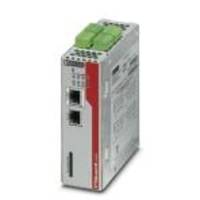 Middletown, Pa. - In the wake of the massive WannaCry ransomware incident, Phoenix Contact is encouraging healthcare facilities and other businesses to take preventive steps to protect their systems from the next malware attack.
Hospitals and medical facilities are at high risk of malware and other network breaches. Old, unsupported and unpatched Windows PCs are often used as part of legacy medical equipment like X-ray machines and MRIs. These PCs and other devices are outside of IT's normal protection and defensive sphere.
"As we saw this past week, failure to protect these systems can interrupt critical patient care and services. With a few steps, it's possible to prevent most malware from infecting your network," said Dan Schaffer, product marketing manager for industrial networks. "It's always best to keep critical systems disconnected from the Internet. However, that's becoming increasingly difficult in our ever-connected world. If your device must be connected, the best way to keep malware out is to use a firewall, like our mGuard, particularly with the CIFS Integrity Monitoring enabled."
Phoenix Contact's FL mGuard security devices have a built-in firewall to block unwanted traffic from the network. The mGuard SMART2 version is particularly suited for the healthcare industry, thanks to its small, non-intrusive design. It can be powered via any USB port, and does not require IT support or software downloads for installation.
The mGuard's optional CIFS Integrity Monitoring feature can immediately detect any change to a Windows file and notify the personnel. This can mitigate any damage if a virus or other malware would penetrate the system.
Learn more at www.phoenixcontact.com/ransomware.
About Phoenix Contact
Phoenix Contact develops and manufactures industrial electrical and electronic technology products that power, protect, connect and automate systems and equipment for a wide range of industries. Phoenix Contact GmbH & Co. KG, Blomberg, Germany, operates 50 international subsidiaries, including Phoenix Contact USA in Middletown, Pa.
For more information about Phoenix Contact or its products, visit www.phoenixcontact.com, call technical service at 800-322-3225, or e-mail info@phoenixcon.com.
Phoenix Contact USA
PO Box 4100
Harrisburg, PA 17111
Phone: 7179441300
contact:
Molly McGowan
email: mmcgowan@phoenixcon.com
More from Optics & Photonics