Avio S.p.A. Acquires Prima Power Laserdyne 430BD Newest Laser System to Expand Its Aerospace Design and Manufacturing Capabilities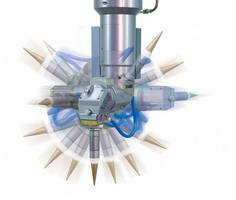 Turin, Italy: The latest development from Prima Power Laserdyne LLC, the multi axis LASERDYNE 430BD, opens new aerospace design and manufacturing possibilities for laser cutting, drilling and welding at Avio S.p.A.



Avio S.p.A. is at the forefront of developing advanced manufacturing technology as it expands its laser manufacturing capabilities. This expansion continues Avio's world leadership in the design, development and manufacturing of aerospace propulsion components for both civil and military aircraft.  The newly acquired LASERDYNE 430BD with latest BeamDirector laser beam positioning capability and rotary table gives Avio a six axis system and the means to create new manufacturing processes while improving existing ones.



Founded In 1908, Avio Continually Innovates In The Aerospace Industry



For more than a century, Avio has played a crucial role in tackling the technological and business challenges of producing high performance aerospace propulsion components. With over 5,000 employees and operations based in Italy, Avio now supplies customers across four continents. The engine applications include turbine components for business jets to medium and long range commercial aircraft. Among Avio's current programs are the Pratt & Whitney PW100 family of engines. Users of this series of engines include Airbus, Boeing, Bombardier, Canadair, Embraer and Superjet. Among Avio's many new aerospace engine initiatives is a 14,000 lbs. turbofan for the EJ200 engine.



In particular the Pomigliano D'Arco (NA) plant is the center of excellence for the manufacturing of Combustors, Exhaust and Re-heat modules. The most important programs that involve the Combustor Center of Excellence are:



EJ200 – Afterburner module

PW800 – Exhaust Module

Sam146 – Combustor Module

T700 – Turbine and Exhaust Module

PW100 & PT6 – Combustors 



In the manufacturing processes of these parts the intensive use of the laser micro drilling technology is essential to meet the requirements of the project.



New 430 Upgrades And Expands Avio's Laser Processing



To meet aerospace customers changing needs, Avio has continuously innovated with its manufacturing processes and facilities. This is especially true in the area of laser material processing. Avio was an early adopter of laser drilling of effusion cooling holes in combustion liners and other high temperature engine components.  Avio's history with laser processing dates back to the 1990's when it began using LASERDYNE systems at its manufacturing location in Pomigliano d'Arcon (Naples) Italy.  The company now will use seven LASERDYNE systems with the addition of the LASERDYNE 430BD.  This will be Avio's first fiber laser equipped system. The new system replaces a LASERDYNE 550 with Nd:YAG laser used primarily for sheet metal trimming. The LASERDYNE 430BD will continue to be used for these cutting operations, but with its flexible laser machining platform in a compact layout and the integration of the fiber laser, it is equally useful in drilling and welding operations with little changeover effort and time required.



The LASERDYNE 430BD integrates a IPG 9kW QCW fiber laser with a wavelength of 1070nm, similar to that of a Nd:YAG laser. Laserdyne's testing at its Champlin, Minnesota USA applications lab and at installations around the world has shown that fiber laser systems provide the potential for improved cutting and drilling applications. In addition, fiber laser technology is more energy efficient requiring lower input power for a given level of average output power and also requires less cooling.



"The LASERDYNE 430BD is a true "game changer" for laser material processing at Avio," reports Mark Barry, Vice President of Sales for Prima Power Laserdyne. "In addition to introducing the fiber laser at Avio, the LASERDYNE 430BD combines tested and proven Laserdyne motion and process control capabilities in a new, smaller and more space efficient platform.  With higher velocity and acceleration, the third generation BeamDirector®  (BD3Y) used on this system has the exclusive LASERDYNE contouring head design with C (rotary) axis motion of 900 degrees, and D (tilt) axis motion of 300 degrees. Among its many features are optical encoders for improved accuracy and repeatability, higher assist gas air-flow, adjustable mirrors for easy and accurate beam alignment and cassette mounted lens and cover slides for quick, accurate changeover."



According the Mr. Barry, "Avio's new 430BD system will use the LASERDYNE S94P control which includes a full complement of standard hardware and software features. These include Automatic Focus Control™ for capacitive part sensing, patented Optical Focus Control (OFC) for sensing of thermal barrier coated surfaces, ShapeSoft™ software for programming shaped holes, Breakthrough Detection™ for drilling clean, consistent holes with the minimum number of pulses, mapping, and numerous additional software and hardware features. This control will also allow the customer to use programs created for different Laserdyne systems with little or no modification.



The LASERDYNE 430BD operates at speeds up to 800 inch/min in all axes (0-20 m/min) with bidirectional accuracy of 0.0005 inch (12.7 micrometer). This accuracy is throughout the system's 585 x 408 x 508 mm work envelope, making it ideal for the demanding process validation requirements and reliability concerns of Avio's aerospace customers. Accuracy of the new 430 system is certified to ISO 230-1:1996 and 230-2:2006 in accordance with Prima Power Laserdyne's standard accuracy and repeatability test procedures.



Processing Accuracy With Automatic Focus Control™ - Made Possible Only Through Integrated Design Of The Entire Laser System



Achieving a high level of accuracy from prototype to production stages and from one job to another with the LASERDYNE 430BD is possible because of the way Laserdyne designs and integrates its system features. Everything works together in a coordinated manner – the controller, software, motion system, laser and process sensors.



A good example is the Laserdyne Automatic Focus Control (AFC™). It's a feature Avio has used in its earlier LASERDYNE systems and swears by. Avio has provided feedback to Laserdyne engineers who have refined the hardware and software through the years. AFC guides the motion system, maintaining critical focus position and following the contour of the part regardless of slight surface irregularities. With AFC, all machine axes react to sensing of the part surface, creating unlimited motion along the axis of the beam (called the R-axis) with high speed and unmatched sensitivity. AFC allows top machine speeds so productivity is maximized without downtime or scrapped parts.



Future Of Laser Systems In The Aerospace Industry



"We are excited about the work that has been accomplished to date utilizing high power fiber lasers with LASERDYNE's latest system designs and the work planned for the new Model 430 at Avio," Mr. Barry reported. "A large number of LASERDYNE customers have embraced the use of fiber laser technology for sheet metal processing with excellent results. The Prima Group was one of the first laser processing system manufacturers to utilize fiber lasers."



"Our approach of combining the motion and process control capability associated with LASERDYNE products with the beam quality and control of fiber lasers will no doubt yield further advances in cutting, drilling and welding processes," Mr. Barry added. "Not only is this combination significant for aerospace manufacturing, it is important for all industries that take advantage of laser processing."



For Laserdyne's first ever report on fiber laser drilling, go to http://www.primapowerinterface.com/fldp/index.html.



For more information about Avio S.p.A., Telephone +39 011 004171, Fax +39 011 0084163. Website: www.aviogroup.com  

Address: Avio S.p.A., Via 1 Maggio 99, 10040 Rivalta di Torino (Turin) – Italy.



For more information about LASERDYNE, call 763-433-3700.  Fax: 763-433-3701. Website: www.primapower.com

Email: LDS.SALES@primapower.com     



PRIMA POWER LASERDYNE, 8600 109th Avenue North, #400, Champlin, Minnesota 55316.  Fax: 763-433-3701.