Aventics Offers EV03 Electropneumatic Pressure Regulating Valve with a Hysteresis as Low as 0.7 psi
Press Release Summary: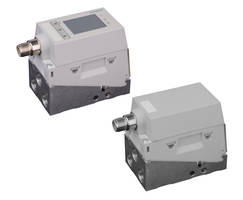 The EV03 Electropneumatic Pressure Regulating Valve is offered in models with an LCD display or LED indication. The unit is piloted externally and operated through poppet valve design and offers a pressure ranges from 0 to 145 psi. It is used for controlling pneumatic actuators, cylinders, brakes and clutches and features M12, 5-pin A-coded connector and IP65 electrical protection. The valve is operated at 24 Vdc voltage with output values of 0 to 10 V or 4 to 20 mA and provides a flow up to 0.88 Cv at 10 bar pressure.
---
Original Press Release:
Electro-Pneumatic Pressure Regulating Valve Features Low Energy Consumption Sub-base mounted EV03 E/P from Aventics
Lexington, Kentucky – The sub-base mounted EV03 electro-pneumatic (E/P) pressure regulating valve from Aventics features extremely low energy consumption and can guarantee pressure control during a power loss. Depending on the version, maximum power generation is between 160 mA to 220 mA. The EV03 also offers precision, with hysteresis as low as 0.7 psi, and flow up to 0.88 Cv (880 l/min) at 10 bar of pressure. The EV03 is available in models with an LCD display, or only LED indication. Configurable with the LCD display are: pressure range, regulator behavior, actual value output, or switch output control.
The Aventics EV03 E/P valves are externally piloted and operate via a poppet valve design for fast, reliable response and have pressure ranges from 0 to 145 psi (1 to 10 bar). The electrical connection is an M12, 5-pin A-coded connector, and electrical protection is IP65. Operating voltage is 24 VDC. Standard output values are 0 to 10 volts or 4 to 20 mA. The compact design has a sub-base with G1/4 connections for input and output, and G1/8 for exhaust.
Electro-pneumatic pressure regulating valves deliver precise and proportional pressure control relative to an electrical signal, acting as electrically operated pressure regulators. They can control pneumatic actuators, cylinders, brakes, clutches and other process functions across a range of industries. Classic examples include precise positioning of parts and components, variable control of welding tips, weight-dependent balancer/dancer technology, and exact controlling/metering in cutting-edge painting systems. The EV03 is one of many precision E/Ps offered by Aventics. More details are available at www.aventics.com/us.
About Aventics
Aventics is one of the world's leading manufacturers of pneumatic components and systems. The pneumatic engineering company provides products and services for industrial automation, as well as the food, packaging, medical, and energy technology industries. The company also develops solutions for the commercial vehicles, marine, and railway technology sectors.
By integrating electronics, the use of state-of-the-art materials, and focusing on machine safety and the Internet of Things (I4.0), Aventics is a pioneer in applied and environmentally-friendly solutions. Aventics is preparing for the future by expanding its approach to digitalization.
With around 150 years of expertise in pneumatics, Aventics employs over 2,000 associates worldwide. From production sites in Germany, France, Hungary, the USA, and China, Aventics markets its products in over 100 countries through direct sales and sales partners. The Aventics Group has received multiple certifications, including ISO 9001 and ISO/TS 16949 for quality, ISO 50001 for energy management, and ISO 14001 for environmental management.
Further information is available at www.aventics.com/us.