Aven(TM)s ProVue SuperSlim LED Magnifying Lamp 8-Diopter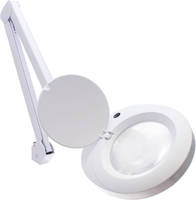 The innovative ProVue SuperSlim LED Magnifying Lamp is a sleek and modern powerful magnification lamp with 60 energy-efficient LED lights for bright, shadow-free illumination for your work bench, and a 5" 8 diopter crystal clear glass lens (3x magnification) for distortion-free viewing. A 36-inch spring arm ensures a large working range, and adjustable locking handles allow operators to set the best position for their application. Also, the adjustable lamp angle allows operators to rotate the lamp in any position for their convenience. With no springs or exposed wires, this lamp offers a pinch-free experience. The 60 White SMD LED Lights provides 20,000 hours of bright, shadow-free illumination. Designed to last a lifetime, the lamp features a modern super slim design, a stylish stainless steel ring and a durable construction. The all-inclusive package comes with a heavy-duty mounting clamp and 4 mounting screws allowing users to mount the ProVue SuperSlim to the side of their work stations, or directly to a work surface.



Applications include electronics inspection, materials analysis, scientific microscopy as well as home use applications.



For more information, call (734) 973-0099. A digital catalog is at www.aventools.com/print-and-web-materials.



Aven, Inc. manufactures and distributes high-performance optical instruments and precision tools for microscopy, inspection and assembly. More than 800 products include video inspection systems, integrated portable microscopes, video borescopes, task lights and stainless steel tools for lab use and precision hand tools such as tweezers, pliers, cutters, screwdrivers, crimpers, knives and alignment tools. Brands include Mighty Scope, iLoupe, Miruc, Carton, Technik and Accu-Tek.



A technology innovator since 1983, Aven is located in a high-tech corridor of Southeast Michigan.

Related